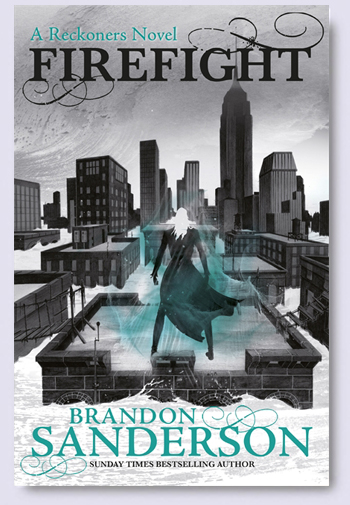 Today, we share with you the UK cover for Brandon Sanderson's upcoming second Reckoners novel, FIREFIGHT. We think you'll agree that Gollancz have commissioned yet another excellent piece. The novel is the hotly-anticipated follow-up to the New York Times bestselling STEELHEART, and is due to be published on January 8th, 2015. Here's the synopsis…
They told David it was impossible – that even the Reckoners had never killed a High Epic. Yet, Steelheart – invincible, immortal, unconquerable – is dead. And he died by David's hand.
Eliminating Steelheart was supposed to make life more simple. Instead, it only made David realise he has questions. Big ones. And there's no one in Newcago who can give him the answers he needs.
Babylon Restored, the old borough of Manhattan, has possibilities, though. Ruled by the mysterious High Epic, Regalia, David is sure Babylon Restored will lead him to what he needs to find. And while entering another city oppressed by a High Epic despot is a gamble, David's willing to risk it. Because killing Steelheart left a hole in David's heart. A hole where his thirst for vengeance once lived. Somehow, he filled that hole with another Epic – Firefight. And he's willing to go on a quest darker, and more dangerous even, than the fight against Steelheart to find her, and to get his answers.
STEELHEART is out now in the UK, and a MITOSIS, a short story set in the same universe, is due to be published later this month, also by Gollancz.
Zeno represents Brandon Sanderson in the UK and Commonwealth, on behalf of the JABberwocky Literary Agency in New York.