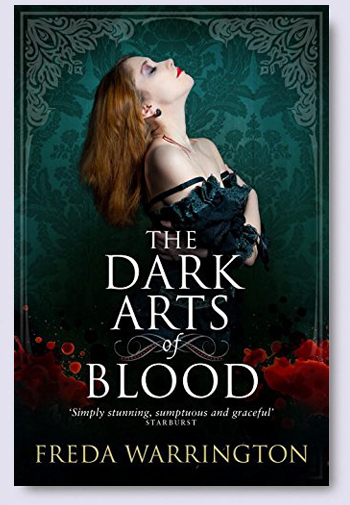 We can now share with you the cover for the fourth novel in Freda Warrington's critically-acclaimed Blood Wine series, THE DARK ARTS OF BLOOD. Due to be published by Titan Books, it follows the reissued editions of the first three novels in the series.
The novel is due to be published in May 2015. Here's an early synopsis…
In the turmoil and glamour of 1920s Europe, vampires Karl, Charlotte and Violette face threats to their very existence. Fiery, handsome dancer Emil achieves his dream to partner the legendary ballerina Violette Lenoir until his forbidden desire for her becomes an obsession. Rejected, spiralling towards madness, he seeks solace with a mysterious beauty, a vampire with a hidden agenda.
The Blood Wine series also includes A TASTE OF BLOOD WINE, A DANCE IN BLOOD VELVET and THE DARK BLOOD OF POPPIES. All three are published in the UK and US by Titan Books.
Here's just a small selection of the praise the series has received thus far…
'A tale which throbs with lush romanticism.' — The Times on A TASTE OF BLOOD WINE
'… a really, really splendid read… It's a story that plays out over cups of tea and glasses of brandy in the drawing rooms of chic London townhouses and glittering stately homes, and here again Warrington shows her writer's chops, layering in exquisite period detail. Sometimes the effect is playfully satirical… lusciously picturesque… like a cross between Anne Rice and Kim Newman… not to be missed.' — Starburst on A TASTE OF BLOOD WINE
'The story neatly and scrupulously takes up the most important loose ends left dangling by the earlier volume, and moves with measured vigour towards a hectically extended climax, building a remarkable crescendo of action and emotion… amply fulfils the promise of its predecessor, and there is no doubt that the series will become one of the literary monuments of the nascent genre to which it belongs.' — Interzone on A DANCE IN BLOOD VELVET
'A gorgeous grave-throbber.' — Time Out on THE DARK BLOOD OF POPPIES