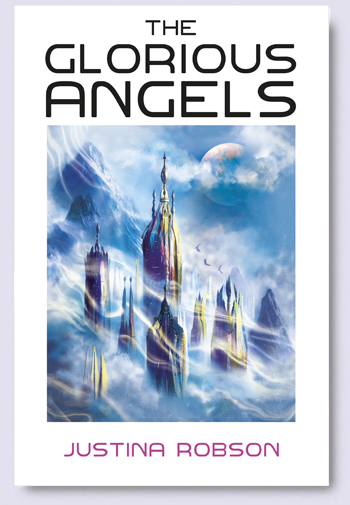 Today we share the cover for Justina Robson's upcoming new science fiction novel, THE GLORIOUS ANGELS! Due to be published by Gollancz in the UK, in March 2015, it is a major new novel from the Arthur C. Clarke Award-winning author, and a major event for next year's sci-fi calendar. Here's the synopsis, for what promises to be an exciting and philosophical novel…
The groundbreaking new novel from one of the genre's most respected authors: a thrilling mix of science, magic and sexual politics.
On a world where science and magic are hard to tell apart, a stranger arrives in a remote town with news of political turmoil to come. And a young woman learns that she must free herself from the role she has accepted.
Here are just a selection of the reviews Justina's past work has received…
'It's good. It's really very good indeed. I loved it.' — Peter F. Hamilton on the Quantum Gravity series
'Robson's supreme strength as a writer of science fiction has always been her ability to create characters whose point of view offers a new perspective on the world in which they exist and act.'  — Strange Horizons
'A novelist of real vision.' — Zadie Smith
'SILVER SCREEN and MAPPA MUNDI showed intelligence, grace and a lively but humane imagination. Robson's considerable sense of humour lay in ambush, backed up by a postfeminist tendency to look the problem straight in the eye. Combined with a clean, powerful narrative drive and a cosmological sensibility, this clarity of vision now demonstrates itself as her major asset, making her one of the very best of the new British hard SF writers. But it proves her identity too, moving her on, like the Forged themselves, into a space of her own choosing.' — Guardian
'Life is anything but real in this entertaining fusion of SF and fantasy spiced with sex, rockin' elves and drunk faeries… Deft prose helps the reader accept what in lesser hands would be merely absurd.' — Publishers Weekly on KEEPING IT REAL
'What Robson has constructed with LIVING NEXT DOOR TO THE GOD OF LOVE is nothing short of a modern-day fairy tale, except she doesn't need to hide behind predatory wolves and little girls in blood-red garments to convey what's truly at stake. Her story could not be told without technology, but it is not a story about technology. It is a story about people, whose behavior cannot be so easily predicted, whose defects cannot be so easily repaired and whose functions and purposes in the universe have yet to be determined.' — New York Times