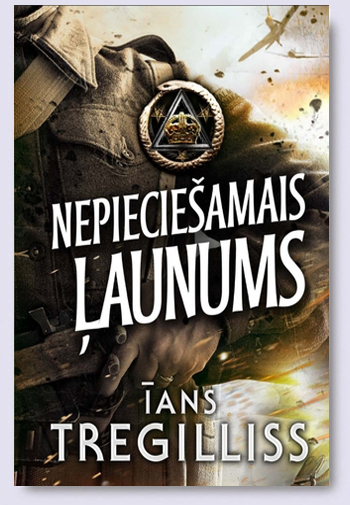 Above we have the Latvian edition of Ian Tregillis's critically-acclaimed NECESSARY EVIL. The third novel in the Milkweed Triptych, it is published in Latvia by Prometejs as NEPIECIEŠAMAIS ĻAUNUMS. Prometejs have also published the first two novels in the series: BITTER SEEDS and THE COLDEST WAR — as RŪGTĀS SĒKLAS and VUSAUKSTĀKAIS KARŠ, respectively.
The Milkweed Trilogy is published in the UK by Orbit Books. Here is the English-language synopsis for NECESSARY EVIL…
Superhumans and dark magic collide in secret supernatural history of Twentieth Century events — the final book in this landmark series
The history of the Twentieth Century has been shaped by a secret conflict between technology and magic. When a twisted Nazi scientist devised a way to imbue ordinary humans with supernatural abilities — to walk through walls, throw fire and see the future — his work became the prized possession of first the Third Reich, then the Soviet Army. Only Britain's warlocks, and the dark magics they yield, have successfully countered the threat posed by these superhuman armies.
But for decades, this conflict has been manipulated by Gretel, the mad seer. And now her long plan has come to fruition. And with it, a danger vastly greater than anything the world has known. Now British Intelligence officer Raybould Marsh must make a last-ditch effort to change the course of history — if his nation, and those he loves, are to survive.
Below are the Latvian covers for RŪGTĀS SĒKLAS and VUSAUKSTĀKAIS KARŠ and also the UK covers…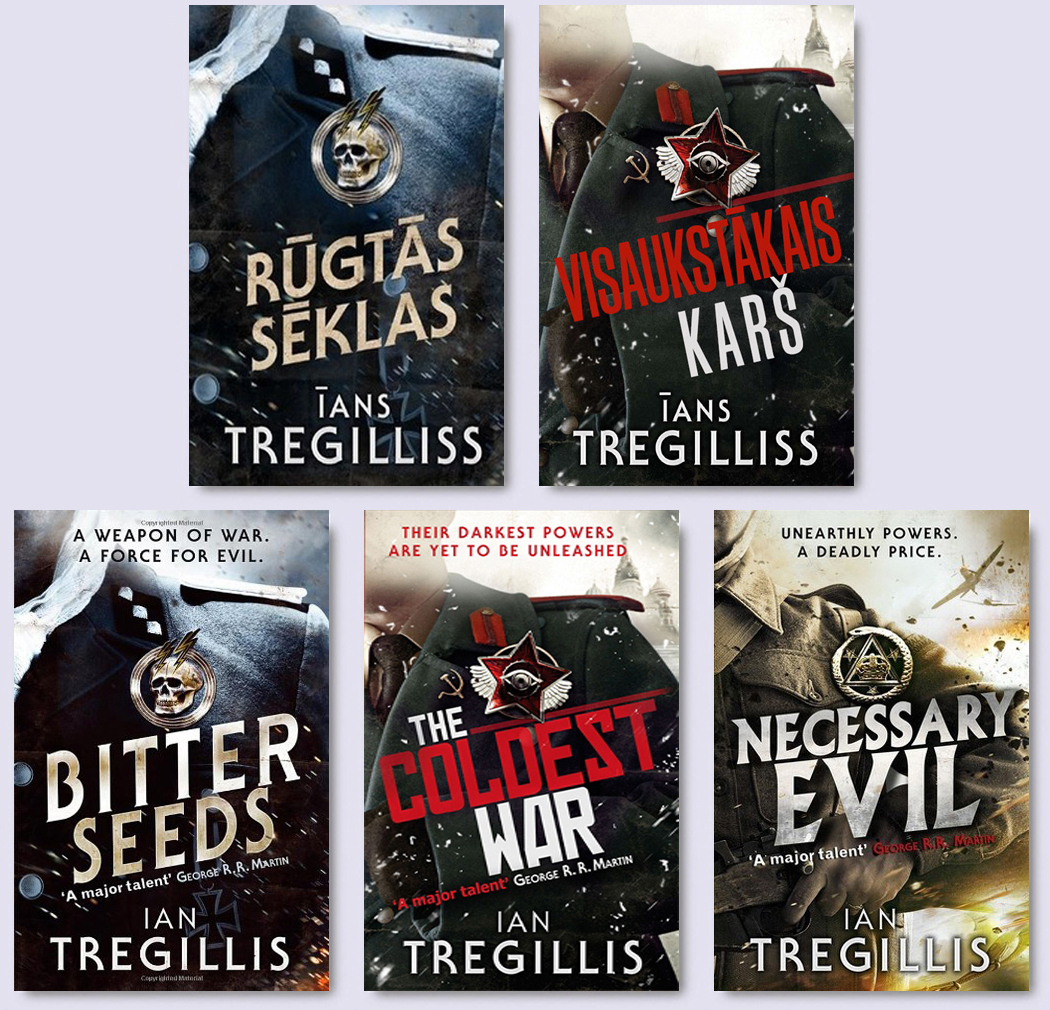 Here's just a small selection of the great reviews NECESSARY EVIL has received…
'A work of art so outstanding in its complexity that is difficult to imagine how Tregillis even began to plan the series out in the first place… a dark and uncompromising journey into the depths of despair, constantly thought-provoking and always surprising. It's a mind-blowing series that everyone should read… a great conclusion to one of the best series of recent times. As unpredictable as its predecessors, it's a black magic thrill ride that makes you think as well as makes your heart race. Tregillis is a master at work, mixing so many genres together in his unique melting pot, until we are left with something so delightfully unlike anything else published today.' — Fantasy Faction
'The historic backdrop of World War Two is intricately detailed, and captures the British wartime spirit well. A suitably epic end to the magnificent Milkweed Triptych (aka trilogy!), this draws you in and keeps you glued to the page until the very end.' — British Fantasy Society
'The masterful conclusion… In the final book in Tregillis's awesome Milkweed Triptych, superhumans and dark magic collide once again in a secret, supernatural history of early Twentieth Century. A series that has consistently impressed me, and improved with each book, NECESSARY EVIL brings the story to a close with aplomb… Gretel is an absolutely fascinating character, and one of my favourites in any book or series: she is both star and villain; Machiavellian in the extreme and ultimately tragic… Ultimately, Tregillis brings the novel and series to a brilliant close. The ending of NECESSARY EVIL is heart-wrenching… but it feels right, given what's come before. The Milkweed Triptych is one of my all-time favourite series. It is a must-read. Very highly recommended.' — Civilian Reader
'[The] Milkweed Triptych is one of the most enjoyable and clever series on the market right now… one of the best novels I've read… If you like Science Fiction, this is the series for you. If you like Alternate History, this is the series for you. If you like Urban Fantasy, yes, this series is also for you. If you just like well-written novels with well-made characters and an expertly crafted story, then this series is for you. NECESSARY EVIL is the perfect conclusion to what is now one of my favorite series ever.' — Elitist Book Reviews
Zeno represents Ian Tregillis in the UK, Commonwealth and Translation, on behalf of Kay McCauley of Aurous, Inc.