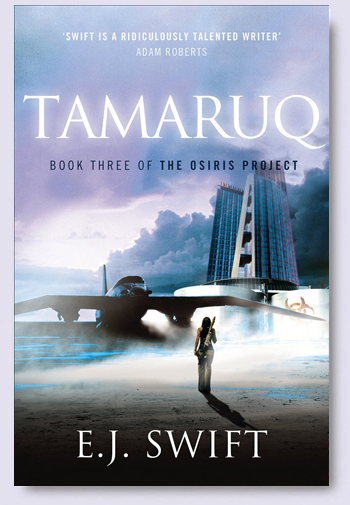 Today we share with you the cover for TAMARUQ, the highly-anticipated third novel in E.J. Swift's Osiris Project series. The novel is due to be published in the UK by Del Rey on January 29th, 2015. Here's the synopsis…
Fleeing from her family and the elitist oppression of the Osiris government, Adelaide Rechnov has become the thing she once feared, a revolutionary.
But with the discovery of a radio signal comes the stark realization that there is life outside their small island existence. Adelaide's worries are about to become much bigger.
Meanwhile, as rumour spreads on the mainland, many head to the lost city of Osiris with their own devious objectives. But in a world where war is king and only the most powerful survive, there can only be one victor…
TAMARUQ follows the critically-acclaimed OSIRIS and CATAVEIRO, both also published by Del Rey. Here's just a small sample of reviews the novels have received…
'Marvelously well done. A glittering first novel: a kind of flooded Gormenghast treated with the alienated polish of DeLillo's Cosmopolis. The result is a gripping novel, beautiful, politically engaged and wholly accomplished. Swift is a ridiculously talented writer… the fact that it's her first novel is belied by how accomplished and well-written it is.' — Adam Roberts on OSIRIS
'A fantastic blend of world-building, excellent storytelling and complex characters… An engrossing story from start to finish… OSIRIS would still be good if all it had was world-building, but it offers so much more by way of plot and storytelling. The thrust of the narrative is the motivation of the characters… forces readers to ask themselves what it would take to spur them to action. Now combine this with the other interesting elements of the book like political intrigue, subterfuge, the way the story is told from alternating viewpoints… and you can see why OSIRIS shines. It's that kind of impressive storytelling that makes OSIRIS hard to put down, and when you have to put it down, something that you remain eager to pick up again.' — SF Signal on OSIRIS
'A very good follow up, improving on the first in pretty much every way… Another beautifully-written novel… CATAVEIRO – and OSIRIS – might not be for all sci-fi fans, but there's no doubt that Swift is a very talented writer, who is honing her craft wonderfully (in these two novels and also her shorter fiction)… Definitely an author to watch. If you enjoy beautifully-written, literary science fiction, with less focus on being an action-packed blockbuster, then The Osiris Project is a must read.' — Civilian Reader
'The soulful latest instalment in The Osiris Project and a superior sequel… new lead characters, a fresh story and some real action… CATAVEIRO has a soulful, lonely quality as Taeo and Ramona embark on their solitary missions, haunted by memories of the past and visions of what lies ahead… Their imperfections keep them grounded and likeable, preventing EJ Swift from slipping into predictable and clichéd characterisation… as dystopian fiction goes it is an intriguing world to get lost in.' — SciFiNow