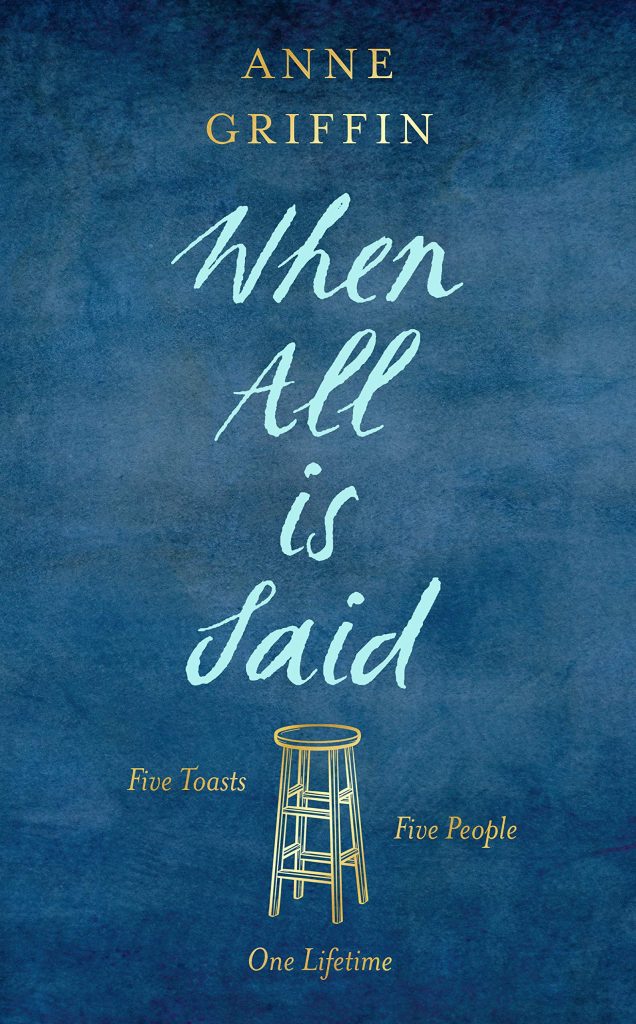 We're very happy to report that, after a spectacular first week, Anne Griffin's superb debut novel, WHEN ALL IS SAID, is the #1 bestseller in Ireland! Congratulations Anne! Absolutely deserved success.
Specifics can be found here, but we wanted to share this bit from the article…
This week's featured book is brand new out and has gone straight to the top of the chart in just two days. When All is Said by Anne Griffin (what a lovely cover!) is proving to be immensely popular and is storming miles ahead of The Tattooist of Auschwitz with almost 2000 sales since release and glowing reviews from big names like John Boyne, Donal Ryan and Graham Norton, to name just a few.
The novel is out now, published in the UK and Ireland by Sceptre. Here's the synopsis…
Five toasts. Five people. One lifetime.
'I'm here to remember — all that I have been and all that I will never be again.'
At the bar of a grand hotel in a small Irish town sits 84-year-old Maurice Hannigan. He's alone, as usual — though tonight is anything but. Pull up a stool and charge your glass, because Maurice is finally ready to tell his story.
Over the course of this evening, he will raise five toasts to the five people who have meant the most to him. Through these stories — of unspoken joy and regret, a secret tragedy kept hidden, a fierce love that never found its voice — the life of one man will be powerfully and poignantly laid bare.
Heart-breaking and heart-warming all at once, the voice of Maurice Hannigan will stay with you long after all is said.
WHEN ALL IS SAID is due to be published in the US by Thomas Dunne Books/St. Martin's Press, in March (cover below). The novel has received an outpouring of love since review copies were sent out, and even more from readers and reviewers since its UK release. Here is just a small selection of praise…
'A book to savour, and pass on. An absolute joy' — Sunday Mirror
'This is how you tell a story' — Cecelia Ahern
'Beautifully written, unhurried and thoughtful, and a character you love from the off' — Kit de Waal
'Anne Griffin has fashioned a rare jewel' — John Banville
'Masterful storytelling' — Graham Norton
'[An] impressively confident debut… Maurice Hannigan emerges as an engaging, compassionate creation' — Guardian
'Warning: it is impossible to read the last chapter of this book without weeping copious tears… an ingenious narrative… Maurice's toast to his late wife that will leave you reeling though. Here is a man who deeply loved a woman but just didn't know how to show it (often held back by his own parsimony), stifling her in the process until one day she rebels in the smallest but most moving of ways. When you read that page, you might want to get the tissues at the ready…' — Stylist
'Pitch-perfect prose… Moving and beautifully written, this is a wonderfully assured debut.' — Mail on Sunday
'It's all beautifully done; a tale told in the plain but poetic prose of a man who recognises the tragic truths gleaned from a life of love and loss. A gem of a book.' 5* — Sunday Express
'A proper tear-jerker, but one that will ultimately leave you feeling hopeful.' — Grazia
'A beautifully written, perfectly paced, heartfelt novel.' — Saga Magazine
If you'd like to hear Anne talk about the novel, she was interviewed for BBC Radio's Front Row, which you can listen to here.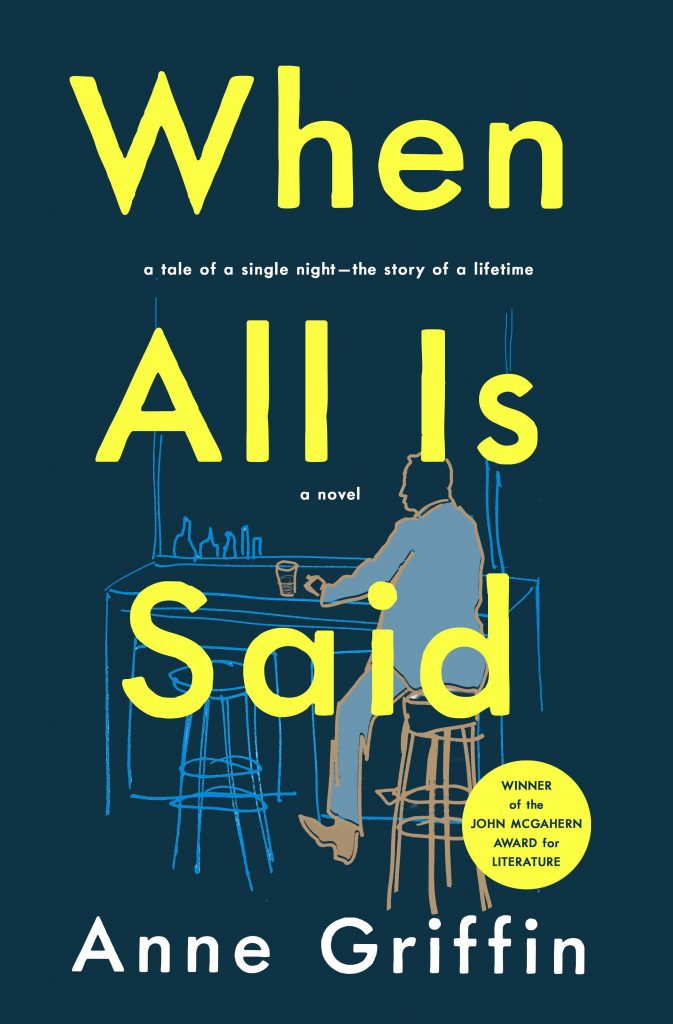 'This is the book I wish I had written' @aineltoner, editor of @Womans_Way and author reviews the Irish debut book by @AnneGriffin_ 'When All is Said' @IrelandAMVMTV Mark Cagney is equally excited for this book to launch on 5th March #teamww pic.twitter.com/6spbSJwznM

— Woman's Way (@Womans_Way) January 30, 2019