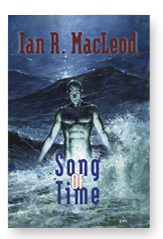 Audible have acquired world English Audio rights for Ian R. MacLeod's 2009 Arthur C. Clark Award winning novel SONG OF TIME. Originally published as a limited edition by PS Publishing, SONG OF TIME was described by Paul Billinger, chair of the Clarke  judges as '… a rich and subtle novel that couples themes of memory and identity with well crafted and all too human characters.'
Audible have also acquired world rights to Michael Cobley's epic Space Opera series HUMANITIES FIRE, comprising  SEEDS OF EARTH, ORPHANED WORDS and THE ASCENDANT STARS. Published in the UK by Orbit and in Germany by Heyne, this series has been widely acclaimed by reviewers and reader alike.
No word yet as to who will narrate either of these acquisitions nor on when we can expect their release, but we'll let you know as and when we're told.