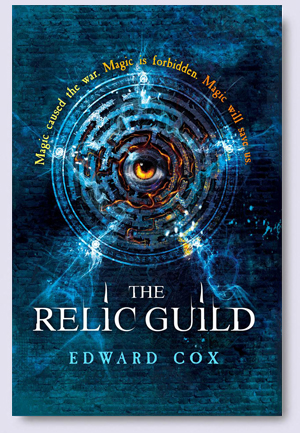 Would you like to be among the first people to read Edward Cox's debut fantasy novel, THE RELIC GUILD? Well, Goodreads is running a giveaway! In order to be in with a chance to win one of twenty available copies, head on over here. You will need a Goodreads account to enter, though. The giveaway closes on August 16th, 2014.
THE RELIC GUILD, the first in a trilogy, is due to be published by Gollancz on September 18th, 2014. Here's the synopsis…
It was said the Labyrinth had once been the great meeting place, a sprawling city at the heart of an endless maze where a million humans hosted the Houses of the Aelfir. The Aelfir who had brought trade and riches, and a future full of promise. But when the Thaumaturgists, overlords of human and Aelfir alike, went to war, everything was ruined and the Labyrinth became an abandoned forbidden zone, where humans were trapped behind boundary walls a hundred feet high.
Now the Aelfir are a distant memory and the Thaumaturgists have faded into myth. Young Clara struggles to survive in a dangerous and dysfunctional city, where eyes are keen, nights are long, and the use of magic is punishable by death. She hides in the shadows, fearful that someone will discover she is touched by magic. She knows her days are numbered. But when a strange man named Fabian Moor returns to the Labyrinth, Clara learns that magic serves a higher purpose and that some myths are much more deadly in the flesh.
The only people Clara can trust are the Relic Guild, a secret band of magickers sworn to protect the Labyrinth. But the Relic Guild are now too few. To truly defeat their old nemesis Moor, mightier help will be required. To save the Labyrinth – and the lives of one million humans – Clara and the Relic Guild must find a way to contact the worlds beyond their walls.
If you aren't lucky enough to win a copy, then there is other great news! THE RELIC GUILD is included in Gollancz's 2014 Debut eBook Promotion, and will be available from e-vendors for just £1.99 until a week after publication.