We're delighted to announce several recent sales to  Stacy Patton-Anderson at Audible.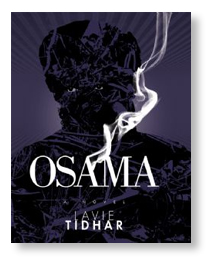 First up, a slew of titles by Lavie Tidhar – including his PS Publishing novel OSAMA, a work that has been on everyone's lips of late, not least because it was name-checked in Christopher Priest's now infamous ranty  blog post as one of the titles (along with WAKE UP AND DREAM by fellow Zeno client, Ian R. MacLeod) that should have made this year's Arthur C. Clarke award shortlist. We, of course, couldn't possibly comment on this matter… except to say how absolutely correct Mr Priest is!
Along with OSAMA, Audible will also be releasing Lavie's entire BOOKMAN trilogy in audio – THE BOOKMAN, CAMERA OBSCURA and the recently published THE GREAT GAME, and the final title in this superb batch is Lavie's collaboration with fellow Israeli author Nir Yaniv, THE TEL-AVIV DOSSIER, a scarcer Tidhar title, originally published by Chizine Publications in Canada.
Joining Lavie at Audible is another client, Ian McDonald – himself often seen on awards and 'best of' shortlists. Audible will be publishing an audio edition of Ian's THE DERVISH HOUSE, a novel that was nominated for last year's Clarke and Hugo awards and which won the Campbell, the BSF and the SFSite poll. They will also be publishing BRASYL (also nominated for the Clarke) and RIVER OF GODS (nominated for the Clarke, Hugo and the Tiptree).
World Fantasy Award and Philip K. Dick award winner James P. Blaylock will see his new novel ZEUGLODON (to be published later this year by Subterranean) and also his classic work THE DIGGING LEVIATHAN published in audio.
And finally – very much in the sense of 'at long last' –  an author with too many award wins and nominations to list here, William Gibson. To accompany their release of Gibson's new non-fiction collection DISTRUST THAT PARTICULAR FLAVOUR, Audible have acquired a number of backlist titles – namely NEUROMANCER, THE DIFFERENCE ENGINE, PATTERN RECOGNITION, SPOOK COUNTRY and ZERO HISTORY.
Happy listening!