Sara O'Keeffe, Editorial Director at Corvus, an imprint of Atlantic Books, has acquired UK and Commonwealth (excluding Canada) rights to Erika Swyler's stunning debut novel, THE BOOK OF SPECULATION.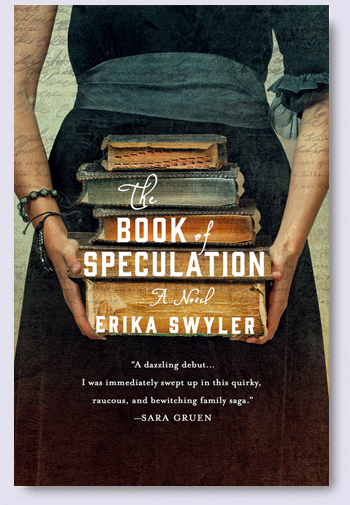 The deal was negotiated by John Wordsworth at the Zeno Agency, on behalf of Michelle Brower and Melissa Sarver White at Folio Literary Management. The novel was sold to St. Martin's Press in the United States in a six figure deal.
"Dear Mr. Watson, I came across this book at auction as part of a larger lot I purchased on speculation. The damage renders it useless to me, but a name inside it—Verona Bonn—led me to believe it might be of interest to you or your family…"
Simon Watson, a young librarian on the verge of losing his job, lives alone on the Long Island Sound in his family home – a house, perched on the edge of a bluff, that is slowly crumbling toward the sea. His parents are long dead, his mother having drowned in the water his house overlooks. His younger sister, Enola, works for a traveling carnival reading tarot cards, and seldom calls.
On a day in late June, Simon receives a mysterious package from an antiquarian bookseller. The book tells the story of Amos and Evangeline, doomed lovers who lived and worked in a traveling circus more than two hundred years ago. The paper crackles with age as Simon turns the yellowed pages filled with notes, sketches, and whimsical flourishes; and his best friend and fellow librarian, Alice, looks on in increasing alarm. Why does his grandmother's name, Verona Bonn, appear in this book? Why do so many women in his family drown on July 24? Could there possibly be some kind of curse on his family – and could Enola, who has suddenly turned up at home for the first time in six years, risk the same fate in just a few weeks? In order to save her – and perhaps himself – Simon must try urgently to decode his family history while moving on from the past.
THE BOOK OF SPECULATION is due to be published in the US in June 2015, and Corvus will publish in the UK in February 2016. No news yet on the UK cover, but the image above-left will grace the US edition. We'll be sure to share the UK cover here as soon as it is available.
'The Book of Speculation is a luscious experience – dark, sweet, and wild' — Katherine Dunn
Find out more about the author by visiting her website and following her on Twitter.