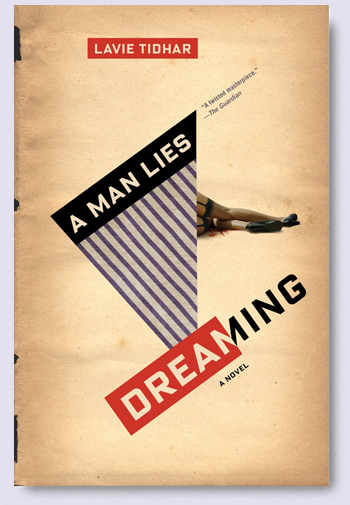 In March 2016, Melville House are due to publish Lavie Tidhar's award-winning A MAN LIES DREAMING. Above is the cover, and here is the synopsis…
A noir thriller with a twist and a Holocaust novel infused with the spirit of shund—the dark Israeli pulp fiction that thrived in the years after World War II — the British Fantasy Award-shortlisted A Man Lies Dreaming is a radical literary experiment that brings alternate history to life.
Lavie Tidhar has reimagined the rainy, atmospheric energy of London in the 1930s, and the troubled private detective with an unspeakable secret who roams its streets. As A Man Lies Dreaming unfolds and more of its mysteries come to the surface, we find ourselves drawn into a novel at once gripping and profoundly unsettling.
A MAN LIES DREAMING won the Jerwood Fiction Uncovered Prize earlier this year, and (as we shared on Monday) has been nominated for the Dublin Literary Award. The novel is published in the UK by Hodder; and by PS Publishing as a Limited Edition (cover below).
Here's just a small selection from the praise that A MAN LIES DREAMING has enjoyed…
'Theodor Adorno said that to write poetry after Auschwitz was barbaric. To which I would say, yes, but you can still write an excellent novel. A MAN LIES DREAMING is that novel.' — Philip Kerr
'One of the most powerful books I've read this year thanks to its combination of alternate history noir and the harsh reality of life in the concentration camps. Tidhar doesn't just describe situations, both real and fictional; he makes you feel them, with writing that stimulates all your senses… A MAN LIES DREAMING once again combines Tidhar's love of alternate realities with insights into what it means to be human. It will haunt your dreams and is his best novel yet. Highly recommended. 9/10′ — SciFi Bulletin
'Wolf's story is interesting, well-plotted… tightly structured… Wolf is a fantastic character, reprehensible, but somehow piteous, hilarious, oddly likeable for all his terrible traits, and the ability to make the reader sympathise with Adolf Hitler, for god's sake, cannot be underestimated. Tidhar is a masterful writer… he is perhaps the UK's most literary speculative fiction writer, and we should celebrate A MAN LIES DREAMING as more a masterful work of literary fiction than of speculative fiction. But it is exactly that: masterful.' — Strange Horizons
'When did he become one of our best and most adventurous writers?' — Jonathan Strahan in Locus (Feb.2015)