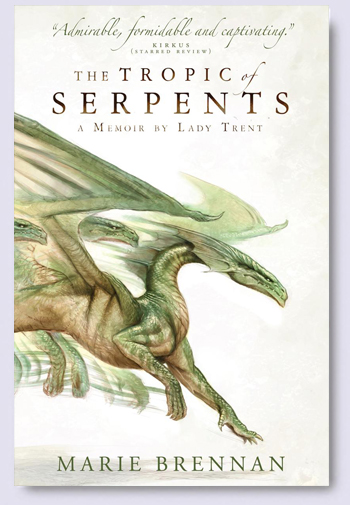 A NATURAL HISTORY OF DRAGONS, Marie Brennan's first novel in the Memoirs of Lady Trent series, has been met with a storm of praise and selling like hot-cakes! It is therefore with great pleasure that we can share with you the synopsis, cover and release date for the UK edition of THE TROPIC OF SERPENTS, the sequel. Due to be published by Titan Books on June 20, 2014, here is the synopsis…
Three years after her fateful journeys through the forbidding mountains of Vystrana, in which she lost her husband, the widowed Mrs. Camherst defies family and convention to embark on an expedition to the savage, war-torn continent of Eriga, home of such exotic draconian species as the grass-dwelling snakes of the savannah, arboreal tree snakes, and, most elusive of all, the legendary swamp-wyrms of the tropics.
The expedition is not an easy one. Accompanied by both an old associate and a runaway heiress, Isabella must brave oppressive heat, merciless fevers, palace intrigues, gossip, and other hazards in order to satisfy her boundless fascination with all things draconian, even if it means venturing deep into the forbidden jungle known as the Green Hell – where her courage, resourcefulness, and scientific curiosity will be tested as never before.
Here's just a small selection of acclaim the book has received…
'What's truly great about this novel is the seamless merging of fantasy themes and incredibly realistic scientific and social details. Come for the dragon adventure — because there's a lot of it. But stay for characters whose stories feel as real as Marie Curie's.' — io9.com
'Brennan's world-building is wonderfully subtle, rendering a familiar land alien with casual details. Fans of fantasy, science, and history will adore this rich and absorbing tale of discovery.' — Publishers Weekly (Starred Review)
'Lady Isabella Trent is a wonderfully charming female-lead who is willing to break from the gender roles of the era and do as her heart desires, study dragons… Marie Brennan does an incredible job of writing in multiple voices… Brennan expertly maintains the balance that makes this commentary fun and informative, without pulling you from the actual story. It's a brilliant touch that brings a level of authenticity to the memoir-style… the interior illustrations, also done by Todd Lockwood, are just as stunning.' — Fantasy Faction
A NATURAL HISTORY OF DRAGONS and THE TROPIC OF SERPENTS are both published in the US by Tor Books.
Zeno represents Marie Brennan in the UK and Commonwealth, on behalf of the JABberwocky Literary Agency in New York.