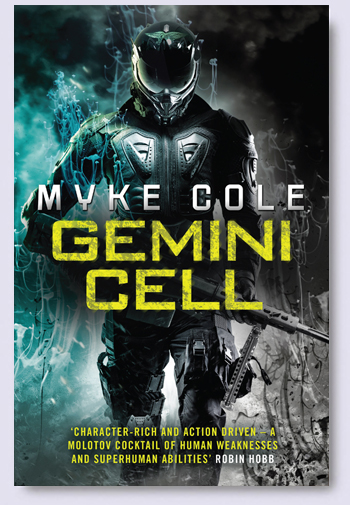 GEMINI CELL is the latest novel by critically-acclaimed military fantasy author Myke Cole. Set before the events of his first trilogy, Shadow Ops, it promises to offer readers a look at when magic first returned to the world. GEMINI CELL is due to be published in the UK by Headline, on February 12th, 2015.
Here is the synopsis…
US Navy SEAL Jim Schweitzer is a fierce warrior and consummate professional. When he sees something he shouldn't on a covert mission gone wrong, he finds himself – and his family – in the crosshairs.
The enemy bring the battle straight to Jim's front door, taking him down together with his wife and son. It should be the end for Jim, but his story is just beginning…
Raised from the dead and left to wrestle with new powers he doesn't understand, Jim is called to duty as the ultimate warrior for top-secret unit known as the Gemini Cell. But he will soon realise his new superiors are determined to keep him in the dark on everything – including about the true fate of his wife and son…
Headline also published Myke's first three novels in the UK – CONTROL POINT, FORTRESS FRONTIER and BREACH ZONE. Here's a small selection of praise Myke's novels have received…
'Character-rich and action driven — a molotov cocktail of human weaknesses and superhuman abilities.' — Robin Hobb
'Black Hawk Down meets the X-Men… Military fantasy like you've never seen it before.' — Peter V. Brett
'I suspect this is the best ride that military fantasy has to offer — you definitely want to get on board.' — Mark Lawrence
'It's not just military… It's just a great book.' — Patrick Rothfuss on CONTROL POINT
'Cole's definitely got a hit on his hands.  He's found that perfect recipe, incorporating magic, military, and mayhem without sacrificing either realism or the sense of wonder.  I can't wait to see what comes next.' — Tor.com on CONTROL POINT
'FORTRESS FRONTIER ends on a high, but also on a drawn breath. For while the plot for this book is quite resolved, there are several loose ends that tease an explosive final in the last book in this trilogy. Cole's respect for the military and the values it upholds bleed through, without glorifying war or violence. With his second book Cole has proven once again that he can combine amazing action scenes with great characterisation and genuine emotion. FORTRESS FRONTIER is stronger than its predecessor and raises expectations for the next book, BREACH ZONE. The Shadow Ops series is proving to be one of my favourite series at the moment and one I highly recommend.' — Fantastical Librarian
'BREACH ZONE is the work of an author confidently knocking it out of the park, juggling the fate of the world with real characters with personal agendas that you actually care about. This isn't just some superhero slugfest with all-American heroes trading blows with evil forces – at its heart it's a love story of two people pulled apart by forces beyond their control, both trying to do the right thing no matter what the personal cost to themselves in the most horrible of circumstances. And again it's a testament to Cole's ability that the intimate moments are just as compelling as the man against monster encounters, if not more so… Exciting and emotional, a page-turner in every sense of the world.' — Fantasy Faction
Here are the covers for the Shadow Ops series…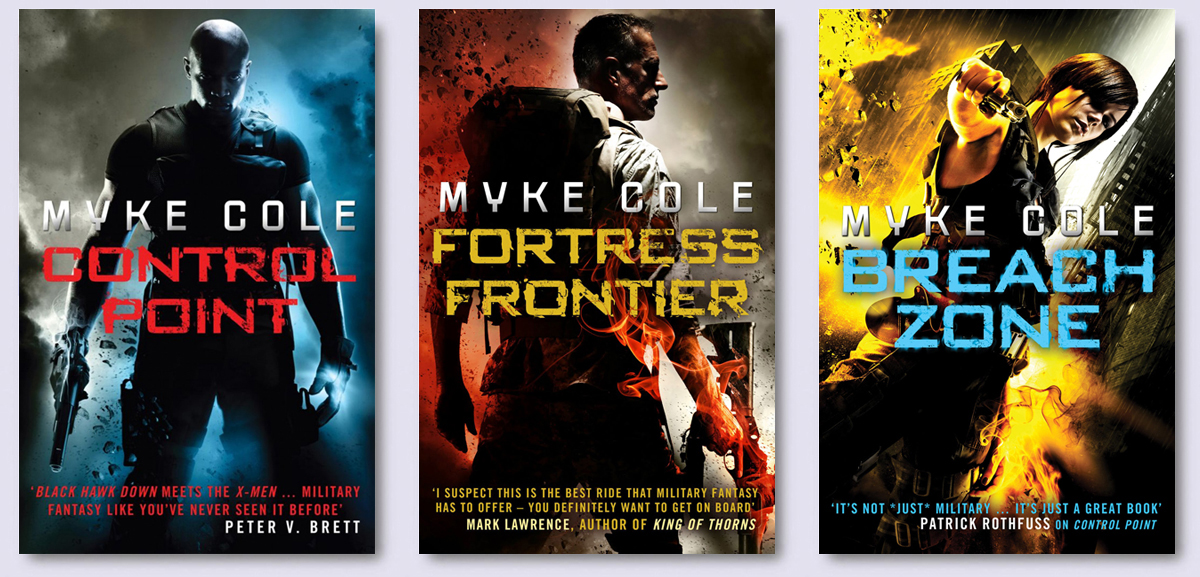 Zeno represents Myke Cole in the UK and Commonwealth, on behalf of the JABberwocky Literary Agency in New York.