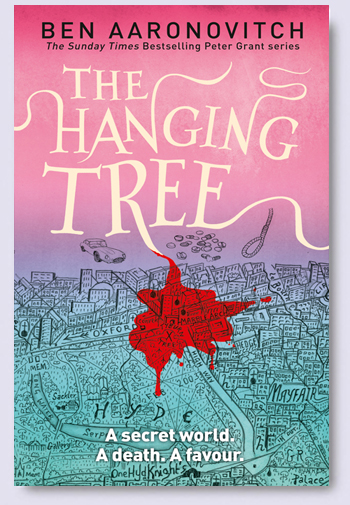 A moment ago, Gollancz unveiled the cover for Ben Aaronovitch's sixth Peter Grant novel, THE HANGING TREE! Gollancz are due to publish the novel in the UK on November 19th, 2015. Here's the synopsis…
The sixth outing for PC Peter Grant in this bestselling series sees him back in London and facing up to the terrifying legacy of London's hangings.
Another gripping and hilarious adventure through the secret streets of London. A tour of what remains and an insight into what once was with a liberal sprinkling of folklore, myth and violent crime.
The Hanging Tree was the Tyburn gallows which stood where Marble Arch stands today. Oxford Street was the last trip of the condemned. Somethings don't change. The place has a bloody and haunted legacy and now blood has returned to the empty Mayfair mansions of the world's super-rich. And blood mixed with magic is a job for Peter Grant.
Peter Grant is back as are Nightingale et al at the Folly and the various river gods, ghosts and spirits who attach themselves to England's last wizard and the Met's reluctant investigator of all things supernatural.
Here's the full cover wrap (click to enbiggen)…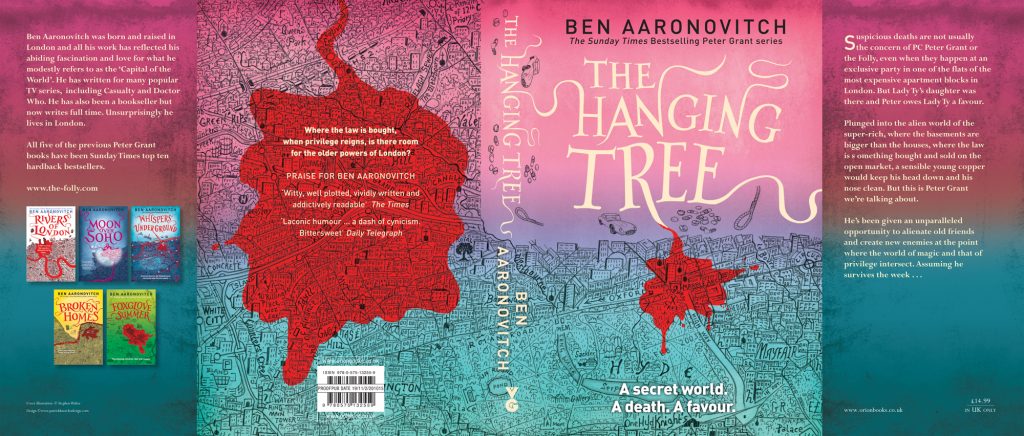 Gollancz publish the rest of the Sunday Times bestselling series in the UK, too: RIVERS OF LONDON, MOON OVER SOHO, WHISPERS UNDERGROUND, BROKEN HOMES and FOXGLOVE SUMMER. The first three novels in the series are published in the US by Del Rey, BROKEN HOMES and FOXGLOVE SUMMER are published in the US by DAW Books. In the US, RIVERS OF LONDON is published as MIDNIGHT RIOT.