The LOCUS Index to SF Awards proudly lists Ian McDonald as the winner of  "1 Hugo, 1 Sturgeon, 1 Philip K. Dick Award, 1 Locus Award, 4 British SF Awards, 2 Kurd Laáwitz". Not a bad clutch of gongs by anyone's standards, eh?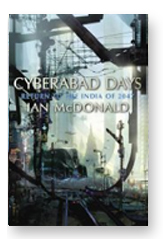 We're delighted to report that we've just got word that Ian's recent short story collection CYBERADBAD DAYS is one of seven works to be shortlisted for this year's Philip K. Dick Award,  the prize to be awarded at Norwestcon 33 in April and one which he has, of course, won previously back in 1992 for his novel KING OF MORNING, QUEEN OF DAY.
CYBERABAD DAYS is published in the UK by Gollancz and in the US by Pyr.
"All in all, Cyberabad Days is a terrific book and a satisfying return to the world of River of Gods. Ian McDonald is a genius, pure and simple." — PAT'S FANTASY HOTLIST
"McDonald's India engulfs you with an overwhelming, perfumed, stinky embrace. A hugely impressive collection. Seven nifty, witty stories." — Dave Langford in SFX