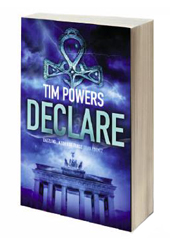 Happy Publication Day to Tim Powers!!! His brilliant novel DECLARE finally receives its British publication today ten years after it was first published in the US with the release of a very smart mass market paperback edition published by Corvus.
DECLARE is a supernatural spy novel, described by Dean Koontz as 'A Tour de Force, a brilliant blend of Le Carré spy fiction with the otherworldly, packed with historical fact, dazzling flights of imagination , and wonderful suspense,' and William Gibson says that 'DECLARE's occult subtext for the deeper Cold War is wonderfully original and brilliantly executed'.
And don't just take their word for it – DECLARE won the 2001 World Fantasy Award for best novel and the International Horror Guild Award in the same year. It was also voted number two fantasy novel (just behind George R.R. Martin's A STORM OF SWORDS, but well ahead of Philip Pullman and Robert Jordan!) in the 2001 LOCUS poll, and was also nominated for the Nebula and Mythopoeic awards.
Needless to say I am beyond delighted to have played a part in bringing this brilliant novel and brilliant author to a new audience. In fact, I think I'll just nip off and read it again!