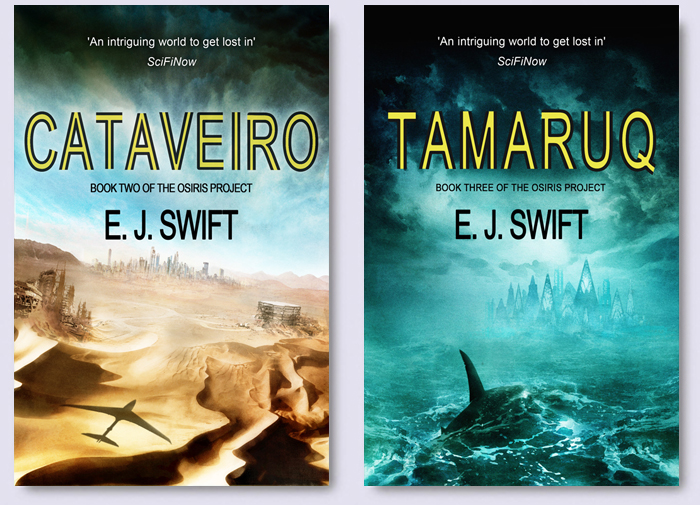 The final two volumes in E.J. Swift's critically-acclaimed Osiris Project – CATAVEIRO and TAMARUQ – are now available in the US as eBooks. The books are released through the JABberwocky eBook Program, along with the first in the series – OSIRIS – which was originally published in the US by Night Shade Books. Here's the synopsis for CATAVEIRO…
A shipwreck. And one lone survivor.
For political exile Taeo Ybanez, this could be his ticket home. Relations between the Antarcticans and the Patagonians are worse than ever, and to be caught on the wrong side could prove deadly. 
For pilot and cartographer Ramona Callejas, the presence of the mysterious stranger is one more thing in the way of her saving her mother from a deadly disease. 
All roads lead to Cataveiro, the city of fate and fortune, where their destinies will become intertwined and their futures cemented for ever… 
The complete trilogy is published in the UK by Del Rey (covers below), and is out now.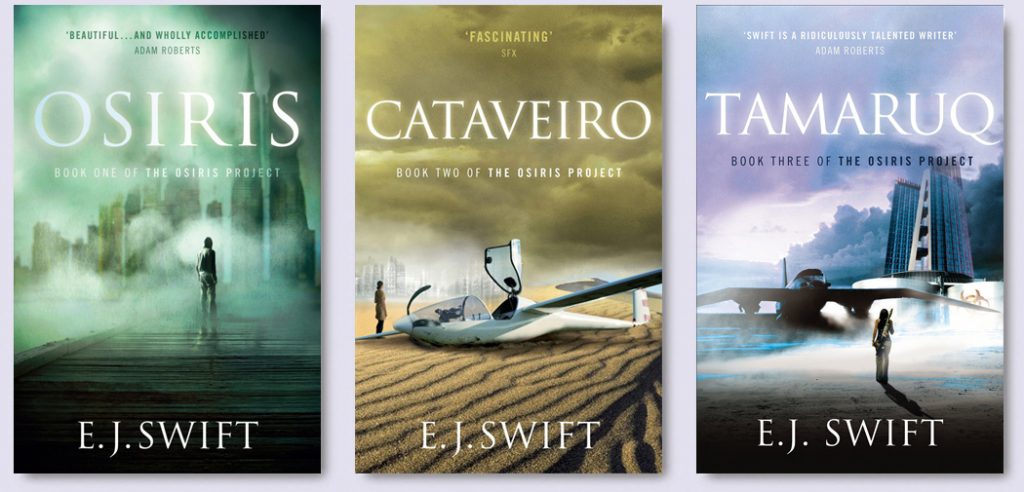 'Marvelously well done. A glittering first novel: a kind of flooded Gormenghast treated with the alienated polish of DeLillo's Cosmopolis. The result is a gripping novel, beautiful, politically engaged and wholly accomplished. Swift is a ridiculously talented writer… the fact that it's her first novel is belied by how accomplished and well-written it is.' — Adam Roberts on OSIRIS
'A fantastic blend of world-building, excellent storytelling and complex characters… An engrossing story from start to finish… OSIRIS would still be good if all it had was world-building, but it offers so much more by way of plot and storytelling… hard to put down…' — SF Signal on OSIRIS
'A very good follow up, improving on the first in pretty much every way… another beautifully-written novel… Definitely an author to watch. If you enjoy beautifully-written, literary science fiction… then The Osiris Project is a must read.' — Civilian Reader on CATAVEIRO
'A superior sequel… new lead characters, a fresh story and some real action… CATAVEIRO has a soulful, lonely quality as Taeo and Ramona embark on their solitary missions, haunted by memories of the past and visions of what lies ahead… Their imperfections keep them grounded and likeable, preventing EJ Swift from slipping into predictable and clichéd characterisation… as dystopian fiction goes it is an intriguing world to get lost in.' — SciFiNow
'[Fans] will jump for joy at the sheer beauty of this finale… TAMARUQ really is a revelation… you will be rewarded when you reach your destination.' — SciFiNow