The French edition of Michael Cobley's SEEDS OF EARTH (originally published in the UK by Orbit) has been nominated in the longlist for Best Foreign Novel category for this year's Grand Prix de l'Imaginaire, the most prestigious award in the SFF field in France.
L'Ombre de la Longue Nuit, translated by Laurent Queyssi, is published by Bragelonne and will compete with ten works by contemporaries such as Dan Simmons, China Mieville and Lauren Beukes and fellow Zeno client Aliette de Bodard.
Aliette's novel, D'Obsidienne et de Sang, translated by Laurent Philibert-Caillat, is published by Eclipse – having originally been published in English by Angry Robot as SERVANT OF THE UNDERWORLD. And yes,  the multiple ironies involved with a native French author, living in France, writing in English, being translated into French and then nominated in a category for Best Foreign Novel have not escaped our notice! Still cool, though, ain't it!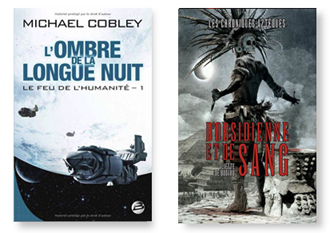 The shortlist will be announced by the jury at the end of March and the winners will receive their prizes at a ceremony held during the Etonnants Voyageurs (Amazing Voyagers) festival at Saint-Malo (26-28 May 2012).
Congratulations and good luck to both Mike and Aliette. We're hoping for a tie between the two of you!