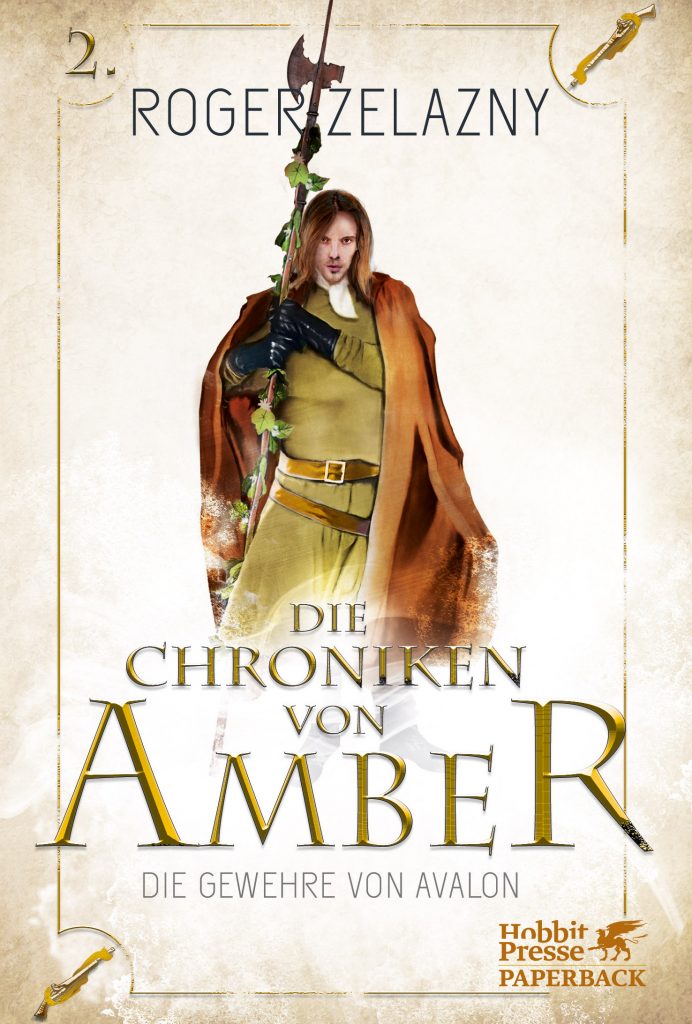 Roger Zelazny's GUNS OF AVALON is out tomorrow in Germany! The second novel in the Chronicles of Amber is published by Klett-Cotta as DIE GEWEHRE VON AVALON, here's the synopsis…
Corwin ist aus dem Verließ Ambers, in das ihn sein verhasster Bruder Eric verbannt hat, geflohen. Zurück in der Schattenwelt Erde baut er heimlich eine Armee auf, um gegen Eric zu kämpfen. Da lernt er Dara kennen, die behauptet, die Enkelin von Corwins Bruder Benedict zu sein. Aber Dara verfolgt ihre eigenen Pläne und entwickelt sich zu einer noch größeren Gefahr als Eric.
Prinz Corwin lebte nach einem Gedächtnisverlust auf der Erde, ohne zu wissen, wer er ist. Als eines Tages ein Mitglied seiner Familie versucht, ihn zu töten, beginnt er, nach seiner Vergangenheit zu forschen.
Und so setzt er alles daran, in das Königreich Amber zurückzukehren. Bald schon erfährt er, dass seine Verwandtschaft über einige sehr ungewöhnliche Kräfte verfügt. Alle Nachfahren des Königshauses können zwischen Amber, den Schattenwelten und dem Chaos hin- und herreisen, indem sie die Realität manipulieren. Sie benutzen magische Spielkarten, um zu kommunizieren und sich an andere Orte zu versetzen. Aber vor allem sind sie alle in einen erbarmungslosen Kampf um den Thron verstrickt. Und nicht zuletzt muss das Geheimnis um das Verschwinden ihres königlichen Vaters Oberon aufgedeckt werden.
Klett-Cotta has also published the first novel in the series — DIE NEUN PRINZEN VON AMBER — and are due to publish the next three novels in the series over the next three months: IM ZEICHEN DES EINHORNS, DIE HAND OBERONS and DIE BURGEN DES CHAOS.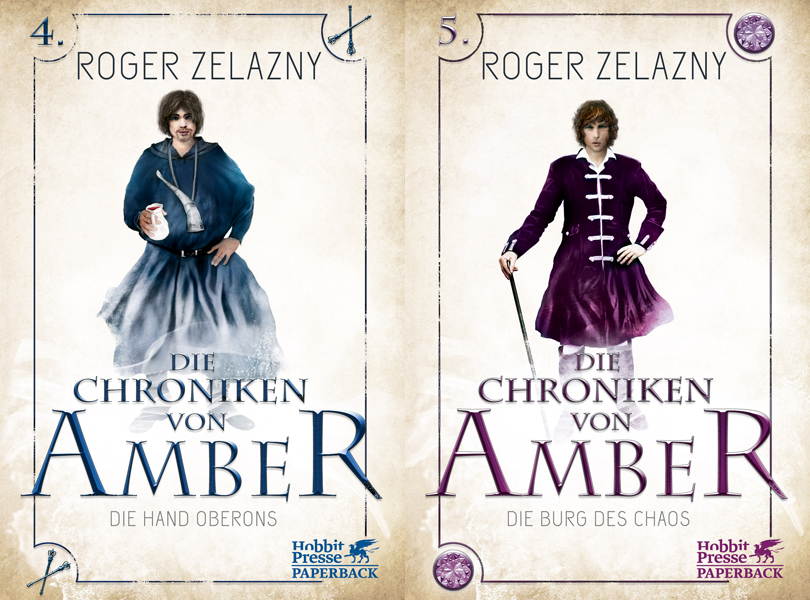 GUNS OF AVALON was first published in 1972. Here's the English-language synopsis…
Across the worlds of Shadow, Corwin, prince of blood royal, heir to the throne of Amber, gathers his forces for an assault that will yield up to him the crown that is rightfully his. But, a growing darkness of his own doing threatens his plans, an evil that stretches to the heart of the perfect kingdom itself where the demonic forces of Chaos mass to annihilate Amber and all who would rule there.
Zeno represents Roger Zelazny in translation, on behalf of the Zelazny Estate.