We are delighted to report that Freda Warrington's third Aetherial Tale, GRAIL OF THE SUMMER STARS, was published yesterday in the US by Tor Books!
The climactic concluding novel in the spellbinding magical contemporary fantasy Aetherial Tales trilogy
A painting, depicting haunting scenes of a ruined palace and a scarlet-haired goddess in front of a fiery city, arrives unheralded in an art gallery with a cryptic note saying, "The world needs to see this." The painting begins to change the lives of the woman who is the gallery's curator and that of an ancient man of the fey Aetherial folk who has mysteriously risen from the depths of the ocean. Neither human nor fairy knows how they are connected, but when the painting is stolen, both are compelled to discover the meaning behind the painting and the key it holds to their future.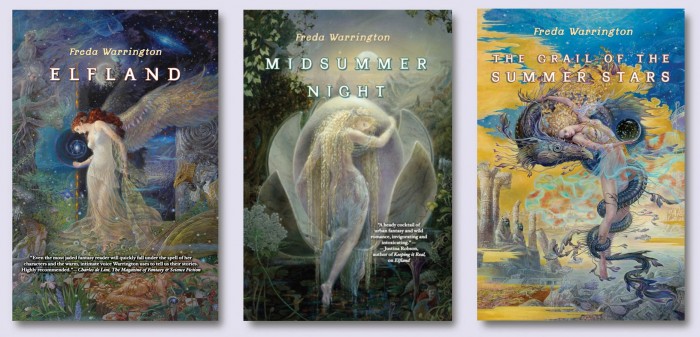 If you'd like to try the novel, head on over to Tor.com, who have shared an excerpt. In addition, Freda has been busy around the SFF blogosphere of late, and recently wrote two great guest posts: The Unashamed Escapist for Fade into Fantasy, and Painting with Words for the Fantasy Book Cafe (as part of their Women in SF&F Month series).
Here's what the critics have been saying so far…
'A classy, beautifully rendered tale that persuasively builds from low-key beginnings into a complex enterprise with real heft, a rich back story and characters that grow with the narrative. A must for existing fans, while being easily accessible to newcomers.' — Kirkus
'If Freda Warrington didn't write, it would be a crime against humanity. This woman was born to write and tell stories and she does it incredibly well… I absolutely love Warrington's world… There's romance, friendship, betrayal, growth, revelations and much more. Basically, it's anything anyone could possibly want in a book… [Warrington] know[s] how to write an incredible story full of emotional drama, depth and amazing world building. Freda Warrington doesn't just write urban fantasy. She's mastered it.' — Bookworm Blues