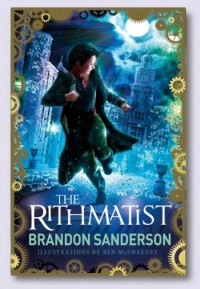 Brandon Sanderson's exciting new YA fantasy, THE RITHMATIST is published today by Orion Children's. The books was released in the US last week, and hit the New York Times Bestseller list at #6! Fingers crossed for a similar reception over here in the UK!
Here's the synopsis…
More than anything, Joel wants to be a Rithmatist. Chosen by the Master in a mysterious inception ceremony, Rithmatists have the power to infuse life into two-dimensional figures known as Chalklings. Rithmatists are humanity's only defense against the Wild Chalklings—merciless creatures that leave mangled corpses in their wake. Having nearly overrun the territory of Nebrask, the Wild Chalklings now threaten all of the American Isles.
As the son of a lowly chalkmaker at Armedius Academy, Joel can only watch as Rithmatist students learn the magical art that he would do anything to practice. Then students start disappearing—kidnapped from their rooms at night, leaving trails of blood. Assigned to help the professor who is investigating the crimes, Joel and his friend Melody find themselves on the trail of an unexpected discovery, one that will change Rithmatics—and their world—forever.
Here's what reviewers have been saying so far…
'Featuring ingenious magic (complete with profuse chalk drawing–style diagrams and illustrations from McSweeney), feisty characters, and a complex plot likely to unwind over several volumes, this high-spirited, exciting story will appeal to readers of all ages.'  —  Publishers Weekly (Starred Review)
'Fantasy readers should devour this well-crafted mix of action and setup, enriched by thoroughly detailed cultural and historical background and capped by a distinctly unsettling twist.'  —  Kirkus (Starred Review)
'The first novel in a brand new series from much-lauded adult fantasy author Brandon Sanderson, THE RITHMATIST is an imaginative, action-packed SFF adventure – entertaining, fun, and with oodles of future potential. In other words: get your chalk out, folks, because this is another good one from Brandon Sanderson. True to form, THE RITHMATIST's greatest strength lies with its wonderfully unique magical system. I will never tire or cease to be impressed by Sanderson's imaginative applications and rules of magic-making…'  —  The Book Smugglers – also hosted Brandon for an interview
'The story is compelling and the main characters of Joel and Melody are ones that we can relate to — even their wishes, desires, hopes, and dreams ring true… While THE RITHMATIST is marketed for teen and young adults, I believe that it would be of interest to readers of all ages. Only the age of the main characters makes this a young adult story, for the problems and issues are germane to humans of all ages. Highly recommended.'  —  SF Revu
Brandon Sanderson is represented in the UK and Commonwealth on behalf of JABberwocky Literary Agency.