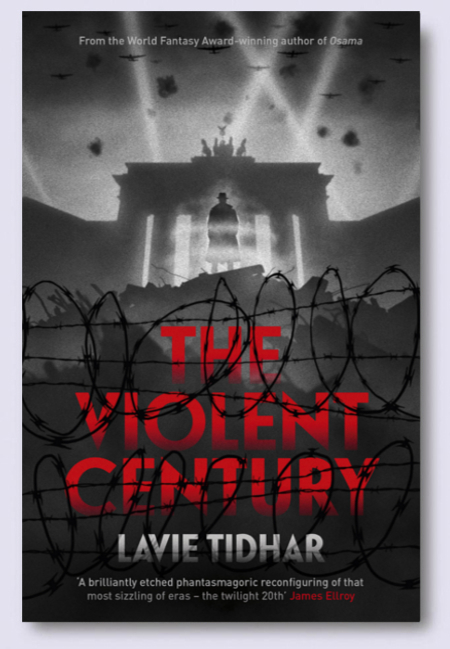 The wait is finally over! Lavie Tidhar's highly-anticipated new novel hits UK shelves today! THE VIOLENT CENTURY, a super-hero noir tale, is published by Hodder Books. The novel has been released simultaneously as an Audiobook, too, for those who prefer their fiction administered aurally.
Here's the synopsis:
They'd never meant to be heroes.
For seventy years they guarded the British Empire. Oblivion and Fogg, inseparable friends, bound together by a shared fate. Until one night in Berlin, in the aftermath of the Second World War, and a secret that tore them apart. But there must always be an account… and the past has a habit of catching up to the present.
Now, recalled to the Retirement Bureau from which no one can retire, Fogg and Oblivion must face up to a past of terrible war and unacknowledged heroism, – a life of dusty corridors and secret rooms, of furtive meetings and blood-stained fields – to answer one last, impossible question: What makes a hero?
The book has received a great deal of advance praise from all over the book-o-sphere, too. Here are just a few of the choicest comments:
'A brilliantly etched phantasmagoric reconfiguring of that most sizzling of eras – the twilight 20th…  This book has it all:  time travel, political intrigue, hellacious history…  You've got superheroes in the guise of regular humans, you've got World War II … THE VIOLENT CENTURY is a torrid tour de force!'  —  James Ellroy
'An alternative history tour-de-force. Epic, intense and authentic. Lavie Tidhar reboots the 20th century with spies and superheroes battling for mastery – and the results are electric.'  —  Tom Harper, author of THE ORPHEUS DESCENT
'[a] high stakes tale of friendship and what it ultimately means to truly be a hero… Tidhar has created a book that oozes excellence in both characterisation and storytelling.'  —  Huffington Post
'… what you'd get if Cormac McCarthy wrote a mash-up of Watchmen and Casablanca. It's a classic World War II film, cold-war spy thriller and superhero story all rolled into one tightly written package… an amazing book… I'd highly recommend this book to anyone.'  —  J For Jetpack
'Tidhar brings us a tale of individuals wrestling with questions of their nature, told on a grand scale, on the stage of the historical shifts that exist in living memory, and he does an outstanding job of it, weaving together historical fact with stunningly deceptive world building… This is a dark, brooding book, one that you want to gnaw on, savour, slowly, and enjoy, but it has its light moments, too… He's dealing with the grandest schemes on the largest of backdrops in time and place, and this level of awe-inspiring craft places him firmly within the highest tier of writers working today, no longer an emerging writer, but a master.'  —  British Fantasy Society
'… an original, engrossing fusion of noir-ish super-heroes and gritty espionage thriller… Tidhar has written a fantastic novel… Definitely recommended.'  —  Civilian Reader