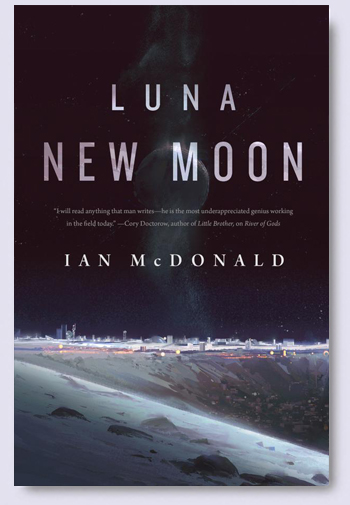 Ian McDonald's long-awaited new SF novel, LUNA: NEW MOON, is out tomorrow in the US! Published by Tor Books, here's the synopsis…
The Moon wants to kill you. Whether it's being unable to pay your per diem for your allotted food, water, and air, or you just get caught up in a fight between the Moon's ruling corporations, the Five Dragons. You must fight for every inch you want to gain in the Moon's near feudal society. And that is just what Adriana Corta did.
As the leader of the Moon's newest "dragon," Adriana has wrested control of the Moon's Helium-3 industry from the Mackenzie Metal corporation and fought to earn her family's new status. Now, at the twilight of her life, Adriana finds her corporation, Corta Helio, surrounded by the many enemies she made during her meteoric rise. If the Corta family is to survive, Adriana's five children must defend their mother's empire from her many enemies… and each other.
You can read an excerpt from the novel, here. The novel has already received some fantastic reviews on both sides of the Atlantic, from fans and critics alike. Here is just a small selection…
'LUNA: NEW MOON is the best moon novel I've seen in many years… Inasmuch as it challenges one of the cherished master narratives of SF, in which the moon is only a stepping-stone, and despite what it owes to the tropes of '70s-era social melodrama, McDon­ald's novel has some formidable SF stingers not far beneath its densely textured surface.' — Locus
'I foresee great things for this book and award nominations a-plenty. Recommended.' — SFF World
'McDonald… begins his superb near-future series… scintillating, violent, and decadent world. McDonald creates a complex and fascinating civilization featuring believable technology, and the characters are fully developed, with individually gripping stories. Watch for this brilliantly constructed family saga on next year's award ballots.' — Publishers Weekly (Starred Review)
'Between the grandeur of the lunar habitats, the unforgiving nature of the surface environment, the joyously genderqueer nature of lunar society, and the thoughtless brutality of the ruling oligarchs, NEW MOON is one hell of a science fiction novel. It is well worth reading, and has plenty in it to keep you thinking long after you have done so.' — Cheryl Morgan
'LUNA provides an amazing, futuristic universe set in 2110…The story is innovative and fresh, on top of being pleasantly well written…The best part of this book, hands down, would have to be the diversity of the characters.' — Portland Book Review
The novel is published in the UK by Gollancz, and is out now.