Hot on the heels of our previous post, we've exciting news of another deal with Jo Fletcher Books to announce…
Jo has just acquired UK & British Commonwealth rights to the first three books of  Ian McDonald's EVERNESS series, this award winning author's first foray into YA.
The initial title, PLANESRUNNER, will be published this coming summer and has already been released in the US by Pyr to absolutely fantastic reviews (see below) with French rights going to Gallimard Jeunesse. Other translation deals are in the pipeline and we're also currently fielding *lots* of film interest!
Jo Fletcher says, 'I first published Ian McDonald way back when, in my early days at Gollancz, and I will never forget waiting breathlessly for the next chapters of CHAGA, and how awed I was by the sheer depth of imagination allied to such a wonderful writing style. So of course I leapt at the opportunity to bring Ian to Jo Fletcher Books, particularly with such a wildly exuberant, exciting and unforgettable series. In fact, I passed PLANESRUNNER around the office and was delighted that my JFB and Quercus colleagues were just as excited as I am. We're going to have enormous fun publishing this, and can't wait for a movie deal to bring this to the widest possible audience it so richly deserves.'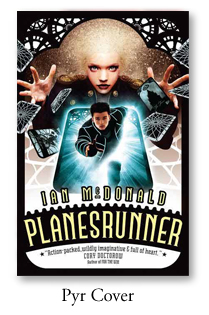 'Planesrunner is chock-full of awesome. Ian McDonald's steampunk London blazes on a vast scale with eye-popping towers, gritty streets, and larger-than-life characters who aren't afraid to fight for each other. The kind of airship-dueling, guns-blazing fantasy that makes me wish I could pop through to the next reality over, join the Airish, and take to the skies' — Paolo Bacigalupi
'Smashing adventure fiction that spans the multiverse without ever losing its cool or its sense of style. Ian McDonald is one of the greats of science fiction, and his young adult debut is everything you could hope for: romantic, action-packed, wildly imaginative, and full of heart.' — Cory Doctorow
'Athletic, brilliant, and always ahead of the game, Everett is too perfect, but it doesn't detract from the book's fun. McDonald writes with scientific and literary sophistication, as well as a wicked sense of humor. Add nonstop action, eccentric characters, and expert universe building, and this first volume of the Everness series is a winner.' — Publishers Weekly, Starred Review