In celebration of James P. Blaylock's UK trip (his first in years!), we thought it would be a randomly nice idea to offer the eBooks of THE ELFIN SHIP and THIRTEEN PHANTASMS at a special low-price to readers in the US! Blaylock's eBooks are published by the JABberwocky eBook program.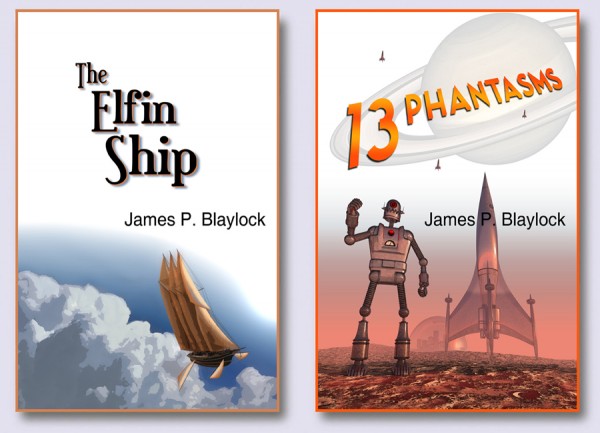 THE ELFIN SHIP is Blaylock's debut, originally published in 1982, and is the first novel in his Balumnia fantasy trilogy. It is followed by THE DISAPPEARING DWARF and also THE STONE GIANT (which is actually a prequel). Here is the synopsis for THE ELFIN SHIP…
Trading with the elves used to be so simple. Every year Master Cheeser Jonathan Bing would send his very best cheeses downriver to traders who would eventually return with Elfin wonders for the people of Twombly Town. But no more First the trading post at Willowood Station was mysteriously destroyed. Then a magical elfin airship began making forays overhead; Jonathan knew something was definitely amiss. So he set off downriver to deliver the cheeses himself, accompanied by the amazing Professor Wurzle, the irrepressible Dooly, and his faithful dog Ahab. It would have been a pleasant trip, if not for the weeping skeleton, mad goblins, magic coins, an evil dwarf, a cloak of invisibility – and a watch that stopped time. However, the return trip would not be so simple.
THIRTEEN PHANTASMS is a collection of short stories that shows Blaylock at his very best. We really can't recommend this enough – for fans of Blaylock and the short story form.
The first short story collection from Philip K. Dick Award-winning author James Blaylock features sixteen thought-provoking forays into the fantastic-from a tale of alien influence on an ordinary neighbourhood to the story of one man's self-destructive obsession with a dragon.
Both of these great titles will be $2.99 for a limited period only (the end of November) – a great way to try James's beloved first fantasy series and his critically-acclaimed short fiction.
– THE ELFIN SHIP – Amazon iTunes Kobo B&N
– THIRTEEN PHANTASMS – Amazon iTunes (Kobo and B&N links on the way!)