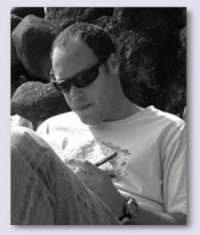 Zeno author Lavie Tidhar continues his award winning streak. At the recent 2013 Eastercon in Bradford, he picked up the BSFA Award for Best Non-Fiction in recognition of his work with The World SF Blog. The website has grown over the past few years, becoming a market leader in global perspectives on genre fiction. This fascinating blog is '… dedicated to posting links, news and original content related to science fiction, fantasy, horror and comics from around the world.' The World SF Blog currently offers news, links and original content in the form of commentary, round table discussions, essays and interviews.
This latest award adds to the 2012 Kitschies' Black Tentacle, which the Blog picked up in February. And, of course, Lavie's superb novel OSAMA (PS Publishing) won the 2012 World Fantasy Award.
Lavie's got some fantastic stuff in the pipeline – we would encourage him to invest in a stronger mantelpiece!