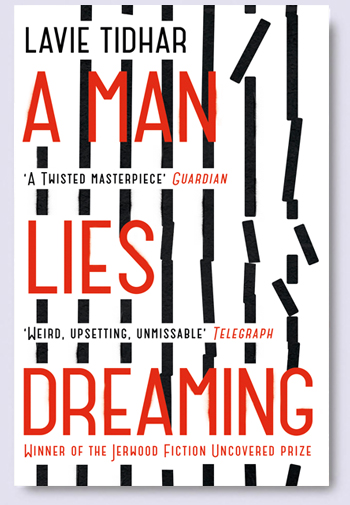 Lavie Tidhar's award winning novel A MAN LIES DREAMING is coming to America next year. The novel, published in the UK by Hodder & Stoughton, has already won a £5000 Jerwood Fiction Uncovered Prize for Best British Book. It is currently on the shortlist for the British Fantasy Award for Best Novel.
In A MAN LIES DREAMING, a Yiddish pulp writer in Auschwitz dreams an alternate world in which a former dictator, now a down-at-heels PI known only as Wolf, ekes out a meagre living in darkly transmogrified London. It has won rave reviews in the UK and been called a "twisted masterpiece" by the Guardian newspaper.
A MAN LIES DREAMING is set to be published by Melville House, the prestigious independent literary publisher, whose list includes David Peace, Banana Yoshimoto and Nobel winner Imre Kertész. It is scheduled for a March 2016 release, in hardcover (there is already an Amazon listing).
Tidhar said, 'I've long been a fan of Melville House, one of the most exciting publishers around, and I couldn't be happier about the deal. I can't wait to see the finished book!'
The deal was negotiated by Hodder & Stoughton; foreign rights are represented by the Zeno Literary Agency, with Italian and Czech rights already sold, and more in the pipeline.
Here's just a small selection of the incredible reviews A MAN LIES DREAMING has received so far…
'When Tidhar writes of the Holocaust it is with brutal accuracy and a deep sensitivity… it's poetic and terrible… at times humorous, at times grim but never frivolous and always taught and controlled… Tidhar knows how to say a great deal in very little. There is eloquence and gravitas in the sparseness and brevity of noir fiction when it is good, and Tidhar's is quite incredible.' — Tor.com
'Like Tarantino, Tidhar may find that some people don't take him seriously. But the joke's on them. Seriousness is the least of it: A MAN LIES DREAMING is a twisted masterpiece.' — Guardian
'No one can accuse Lavie Tidhar of being risk-averse… such an interesting writer… the novel is not without a fair amount of humor, and that might well be the boldest risk Tidhar is taking here…' — Locus
'Lavie Tidhar's latest novel is one of the most powerful books I've read this year thanks to its combination of alternate history noir and the harsh reality of life in the concentration camps. Tidhar doesn't just describe situations, both real and fictional; he makes you feel them, with writing that stimulates all your senses… A MAN LIES DREAMING once again combines Tidhar's love of alternate realities with insights into what it means to be human. It will haunt your dreams and is his best novel yet. Highly recommended. 9/10′ — SciFi Bulletin
'Intelligent, troubling, funny, at times harrowing, an emotional rollercoaster from start to finish.' — E.J. Swift