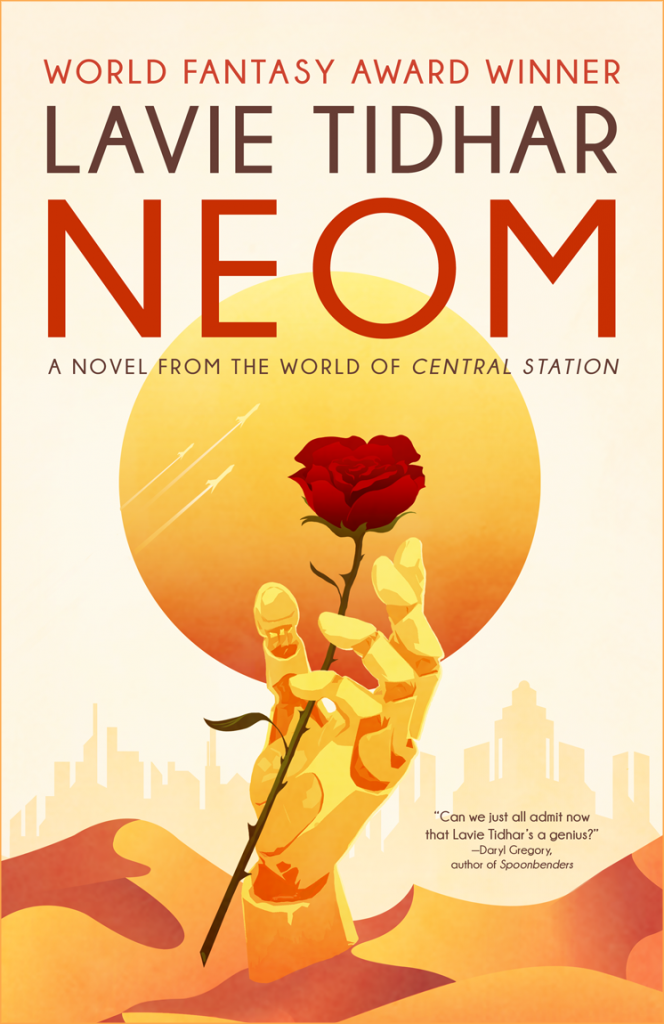 Return to the universe of CENTRAL STATION in Lavie Tidhar's latest novel, NEOM — out today, published by Tachyon Publications! Here's the synopsis…
The city known as Neom is many things to many beings, human or otherwise. Neom is a tech wonderland for the rich and beautiful; an urban sprawl along the Red Sea; and a port of call between Earth and the stars.
In the desert, young orphan Saleh has joined a caravan, hoping to earn his passage off-world from Central Station. But the desert is full of mechanical artefacts, some unexplained and some unexploded. Recently, a wry, unnamed robot has unearthed one of the region's biggest mysteries: the vestiges of a golden man.
In Neom, childhood affection is rekindling between loyal shurta-officer Nasir and hardworking flower-seller Mariam. But Nasu, a deadly terrorartist, has come to the city with missing memories and unfinished business.
Just one robot can change a city's destiny with a single rose — especially when that robot is in search of lost love.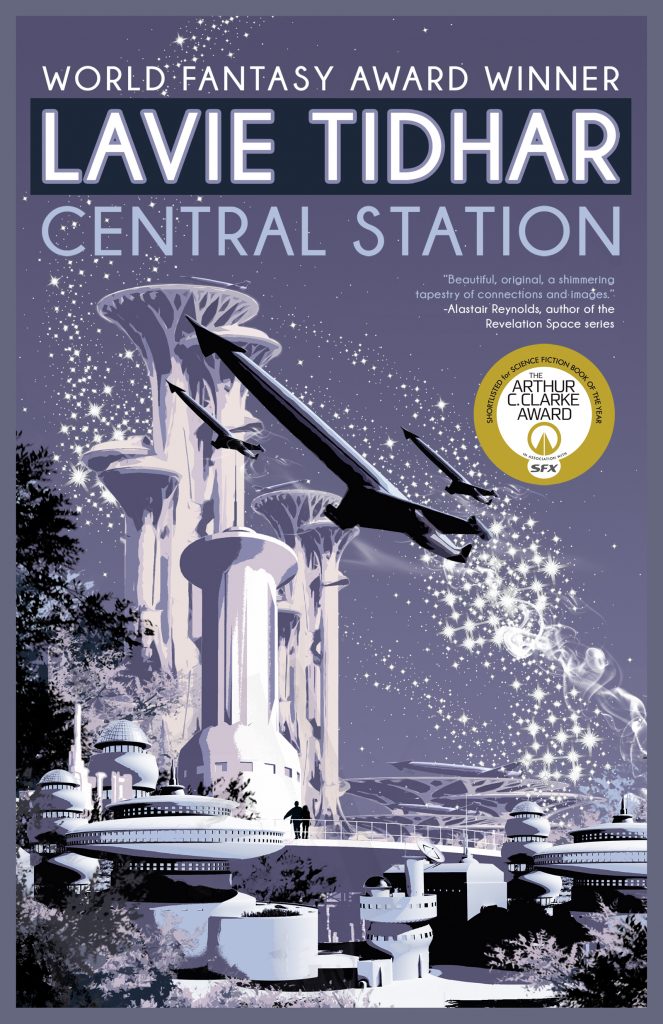 The highly-acclaimed CENTRAL STATION was published in 2016, also by Tachyon Publications. With an award-winning cover by Sarah Anne Langton, the novel was also the John W. Campbell Award Winner, Neukom Institute Literary Arts Award Winner, Xingyun Award Winner; it was shortlisted for the Arthur C. Clarke Award and Kurd Laßwitz Preis; longlisted for the British Science Fiction Award; was nominated for the Geffen Award (Best Translated Science Fiction Book); and it was a finalist for the Premio Italia, Best International Novel Award.

Here are just a few of the early reviews that NEOM has received so far…
'… hauntingly beautiful… Written in a straightforward but luminous style… NEOM is a treasure… a compelling chapter in this future history that reflects so much about who we are and the basic things we yearn for.' — SciFi Mind
'Lavie Tidhar's NEOM is a stunning return to his world of CENTRAL STATION, twinning the fates of humans and robots alike at a futuristic city on the edge of the Red Sea.' — Green Man Review
'This was superb and I'm in awe of Tidhar's vision. He's conjured up a futuristic city that feels simultaneously ultramodern and also run down. The rich histories of the region and its cultures are seamlessly interwoven into the fabric of this fully-realized world.' — Speculative Shelf
Tachyon also publishes Lavie's UNHOLY LAND, THE VIOLENT CENTURY, and THE ESCAPEMENT.