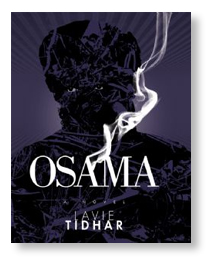 Lavie Tidhar's formidable novel OSAMA is one of five books nominated for this year's Kitschie Awards – specifically, their 'Red Tentacle' award!
The winner receives a £750 prize, a hand-crafted tentacular trophy and (best of all!) a bottle of the Kraken's finest black rum. See here for more details and for the full shortlist.
'OSAMA is exceptional. Compelling, confrontational, and surprisingly moving, it is one of the best novels yet on terror in our times.' — World Literature Today
'Not a writer to mess around with half measures … brings to mind Philip K Dick's seminal science fiction novel THE MAN IN THE HIGH CASTLE.' –- The Guardian on OSAMA.
'Bears comparison with the best of Philip K Dick's paranoid, alternate-history fantasies. It's beautifully written and undeniably powerful.' – The Financial Times on OSAMA.
'OSAMA is written with both an obvious affection for genre fiction and a sense of wild-eyed disbelief at the insanity of a world where people fly planes into skyscrapers. 4.5/5 stars.' –- SFX
'Intensely moving.' -– Interzone on OSAMA