The 2013 LOCUS Award Winners were announced this weekend, and we have some great news: two of our clients have won in their categories!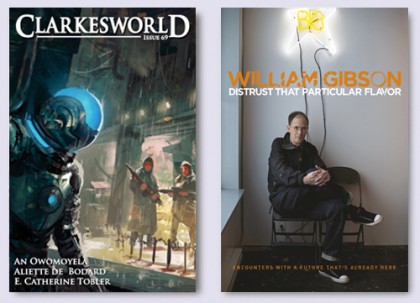 First up: we told you she was unstoppable! Aliette de Bodard has won in the Short Story category, for IMMERSION! This is the second win this year for Aliette and IMMERSION, having already nabbed a Nebula Award last month – the story is also nominated for a Hugo Award. IMMERSION appeared in Clarkesworld #69, June 2012.
In addition, we're delighted to report that William Gibson's DISTRUST THAT PARTICULAR FLAVOR won the Non-Fiction award! The book is published by Viking (Penguin). DISTRUST THAT PARTICULAR FLAVOR is a collection of essays on a wide array of subjects, including:  Metrophagy (the Art and Science of Digesting Great Cities), eBay (an account of obsession in 'the world's attic'), why 'The Net is a Waste of Time', Singapore as 'Disneyland with the Death Penalty', a primer on Japan ('our default setting for the future'), and others.
Congratulations to all the winners, and especially Aliette and William!