Michael Cobley's highly-anticipated new novel, ANCESTRAL MACHINES, is out this week! Published by Orbit Books tomorrow in the US, and on Thursday in the UK, it is a stand-alone novel set in the same universe as his Humanity's Fire series. Here's the synopsis…
It was named Bringer of Battles, three hundred worlds orbiting a single artificial star, three hundred battlefields where different species vie for mastery and triumph. It is a cage where war is a game — brutal, savage and sudden. In this arena, all must bend the knee to the Lords of Permutation and the ancient sentient weapons with which they have merged. Or suffer indescribable agonies.
Trapped in this draconian crucible of death, Brannan Pyke, captain and smuggler, must fight his way to freedom.
Because in the Bringer of Battles, the game of war is played to the death and beyond.
Orbit also publishes Cobley's original best-selling and critically acclaimed novels in the Humanity's Fire series: SEEDS OF EARTH, THE ORPHANED WORLDS and THE ASCENDANT STARS.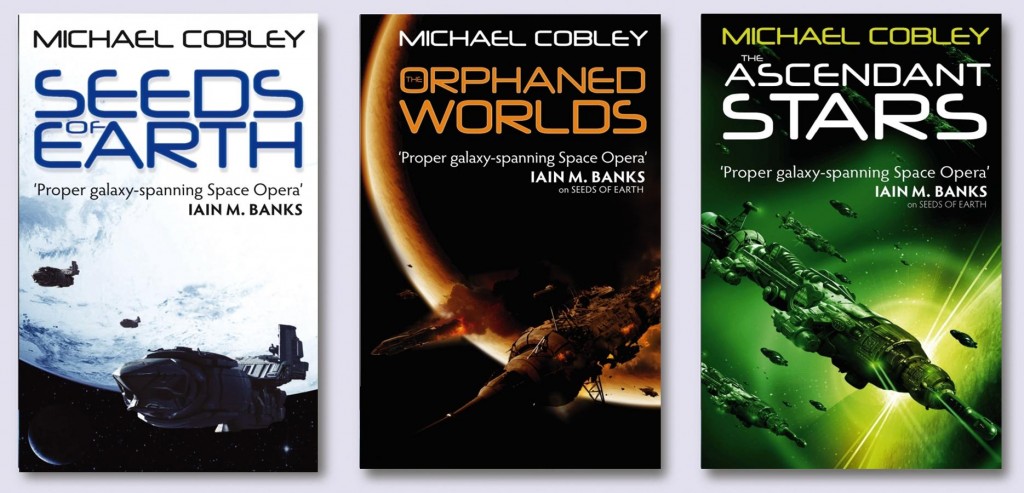 ANCESTRAL MACHINES has already been picked as January must-reads by io9.com and Kirkus. Michael is taking part in a Reddit AMA today, too — this can be found on the Sci-Fi subreddit.
Michael will also be signing copies of ANCESTRAL MACHINES at Forbidden Planet in London this Saturday, January 16th.
Here's just a small handful of reviews the Humanity's Fire series has received so far…
'A well-constructed space opera with a sense of vast scope, populated with an array of beautifully differentiated intelligences both organic and artificial… this is a thick and satisfying 10-course meal of starchy pageantry, meaty characters, bitter losses, and sweet romance.' — Publishers Weekly on SEEDS OF EARTH
'The story is huge, complex and moves between its varied cast with assured purpose… a tightly plotted, action packed epic that leaves you wanting more.' — SciFi Now on SEEDS OF EARTH
'A complex, finely detailed thriller-cum-space opera… SEEDS OF EARTH has everything: well-realised extraterrestrials, scheming artificial intelligences, set-piece space battles and bizarre technology from the dawn of the galaxy. The first book of the trilogy is also a convincing portrayal of political machinations and the plight of individuals caught up in events beyond their comprehension.' — Guardian
'Cobley writes energetic space opera, rarely dallying with sentiment and mostly assaulting the reader with exotic locations and sudden skirmishes. There are joyous moments of invention but overall there's too much going on… Fortunately, as the saga progresses, THE ORPHANED WORLDS begins knotting some of the threads together – it still feels like an over-shaken can of fizzy diet Banks…' — SFX
'Fast and exciting… an excellent middle book in the trilogy, expanding on SEEDS OF EARTH and setting everything in place for a thrilling conclusion' — Waterstone's Book Quaterly on THE ORPHANED WORLDS
'A dark vision of humanity pitched against vast forces; the plight of strong individuals caught up in titanic struggles and fighting for what they see as a just cause. THE ASCENDANT STARS is… a space opera of mind-bending depth and scope which sets complexly thought-out alien races and chilling cyborg armies against humans riven by competing political philosophies and agendas… A marvellously readable examination of people under extreme stress, a convincing depiction of startlingly alien aliens, and a mature political analysis often lacking in the genre. Cobley expertly juggles multiple plot-lines and brings them to thematically satisfying conclusions while providing the landmark trilogy with a thrilling finale.' — Guardian