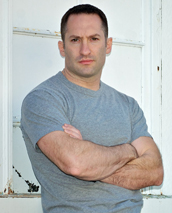 It is with great pleasure that we announce the arrival of US author Myke Cole, who  joins the Zeno client roster with the sale of his fabulous, high energy military fantasy series, SHADOW OPS, described by Peter V Brett as 'Black Hawk Down meets the X-Men' and 'military fantasy like you've never seen it before'.
UK and Commonwealth rights have been acquired by Headline, with recently appointed commissioning editor John Wordsworth concluding a five figure, three book deal negotiated by John Berlyne of the Zeno Agency on behalf of Joshua Bilmes of JABberwocky Agency, Inc. in the US.
Headline will publish the first book in the series, CONTROL POINT in late 2012 with sequels FORTRESS FRONTIER and BREACH ZONE following in February 2013 and February 2014.
'CONTROL POINT is an absolutely thrilling, fresh take on the military fantasy novel,'  says Wordsworth. 'Myke has drawn from his own considerable experience, which includes three tours in Iraq, to create a world with breathtaking scope. I'm just itching to see where he takes it in the next two books. I am over the moon that the Shadow Ops series will be published by Headline.'