Huge congratulations to Zeno client Aliette de Bodard, who has been nominated in two categories for the 2012 Nebula Awards!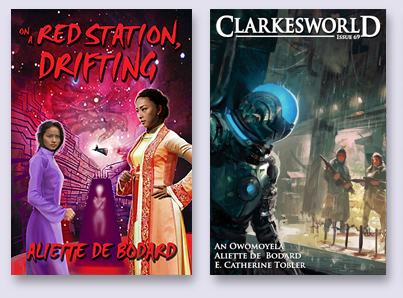 ON A RED STATION, DRIFTING (Immersion Press) has been nominated in the Novella category, and "IMMERSION" (Clarkesworld #69, June 2012) has been nominated in the Short Story category. The latter was also nominated for a BSFA Award this year. You can read the excellent "IMMERSION" free online, here.
The Forty-Eighth Nebula Awards Weekend will be held May 16-19th, 2013, at the San Jose Hilton. Borderland Books will be sponsoring a mass autograph session from 5:30-7:30 p.m. on Friday, May 17th at the Hilton. The autograph session is open to the public and, of course, books by the authors in attendance will be available for purchase (so it's easy to complete your collections!). More information about the Nebula Awards Weekend can be found here.
Aliette de Bodard is the author of multiple award-winning and short-listed short stories, and also the OBSIDIAN & BLOOD trilogy, published by Angry Robot Books: SERVANT OF THE UNDERWORLD, HARBINGER OF THE STORM and MASTER OF THE HOUSE OF DARTS.