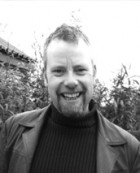 Zeno is delighted to welcome new British author Edward Cox as a client – and we're even more excited to be timing this news with the announcement of a fantastic book deal for him.
Ed's debut fantasy, THE RELIC GUILD, and two further novels in the same series, have sold to Marcus Gipps at Gollancz, in a high, five-figure deal for World Rights negotiated by John Berlyne of the Zeno Agency, who said of the deal: 'Ed Cox's confident and impressive début, THE RELIC GUILD, is an atmospheric gaslight revenge fantasy. It is set to be a stand out series and who better to launch this hugely talented, home grown author than Gollancz.'
Here's a little blurb about the book…
It was said the Labyrinth had once been the great meeting place, a sprawling city at the heart of an endless maze. But it has become an abandoned forbidden zone, where humans are trapped behind boundary walls a hundred feet high.
Young Clara struggles to survive in a dangerous and dysfunctional city, where eyes are keen, nights are long, and the use of magic is punishable by death. She knows her days are numbered.  The only people Clara can trust are the Relic Guild, a secret band of magickers sworn to protect the Labyrinth. But the Relic Guild are now too few. To save the Labyrinth – and the lives of millions – Clara and the Relic Guild must find a way to contact the worlds beyond their walls.
And here's what Ed had to say about the deal: 'It's incredible! It's hard to believe that I'll be joining such an amazing list of personal writing heroes and great authors, but I'm head-over-heels happy. Gollancz is an outstanding publisher, one of the best, and I'm looking forward to working with a team that is so dedicated to SF, fantasy and horror.'
'I was thrilled by THE RELIC GUILD,' said Marcus. 'From the very first page, and as I kept on reading it was clear that Edward had delivered a remarkably readable and well-constructed book. He takes elements we have seen in fantasy before, and welds them into something new. With two intertwining stories taking place 40 years apart but influencing each other deeply, it is clear that Edward is a very exciting new talent.'
THE RELIC GUILD is scheduled to be published by Gollancz in June 2014.