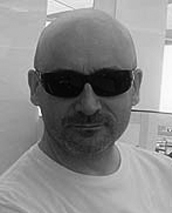 We're delighted to announced that Zeno now represents award winning author Mark Hodder in the UK and commonwealth, on behalf of primary agent Eddie Schneider at the JABberwocky Literary Agency  Inc. in New York.
Mark's fantastic steampunk romp THE STRANGE AFFAIR OF SPRING-HEELED JACK was a hugely popular winner of the 2011 Philip K. Dick Award, and along with the two follow up titles THE CURIOUS CASE OF THE CLOCKWORK MAN and EXPEDITION TO THE MOUNTAINS OF THE MOON (published by Pyr in the US and Snow Books here in the UK) has brought this author great acclaim and a huge fan base in a relatively short period of time.
We can now announce three new Burton and Swinburn novels, THE SECRET OF ABDU EL-YEZDI THE MYSTIC, IN THE GRIP OF THE BEAST, and THE MYSTERY OF THE MULTIPLYING MEN, which will run parallel to the first trilogy. These, along with a 'sword-and-planet' standalone, A RED SUN ALSO RISES have been acquired at auction in a four book deal by Michael Rowley at Ebury, and will be published on their soon-to-be-name dedicated SF/F list, the first title appearing in 2013.