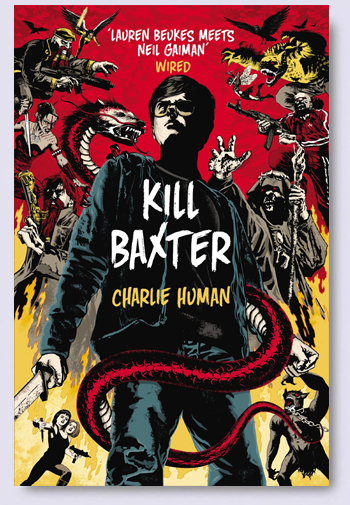 The paperback edition of Charlie Human's second novel, KILL BAXTER, is released today. Published in the UK by Arrow Books, it is the sequel to the tremendously well-reviewed APOCALYPSE NOW NOW. Here's the synopsis…
AND HE THOUGHT THE HARD PART WAS OVER…
The world has been massively unappreciative of sixteen-year-old Baxter Zevcenko. His bloodline may be a combination of ancient Boer mystic and giant shape-shifting crow, and he may have won an inter-dimensional battle and saved the world, but does anyone care? No.
Instead he's packed off to Hexpoort, a magical training school that's part reformatory, part military school, and just like Hogwarts (except with sex, drugs, and better internet access). The problem is that Baxter sucks at magic. He's also desperately attempting to control his new ability to dreamwalk, all the while being singled out by the school's resident bully, who just so happens to be the Chosen One.
But when the school comes under attack, Baxter needs to forget all that and step into action. The only way is joining forces with his favourite recovering alcoholic of a supernatural bounty hunter, Ronin, to try and save the world from the apocalypse. Again.
Here are just a couple of reviews KILL BAXTER has received…
'This detailed world is one all fans of urban fantasy or comedy will enjoy.' — Sun
'A hilarious, imaginative and gloriously insane treat…laugh out loud funny and fiendishly creative…Dark, mad, imaginative, and hilarious; Kill Baxter is a joy.' — SciFi Now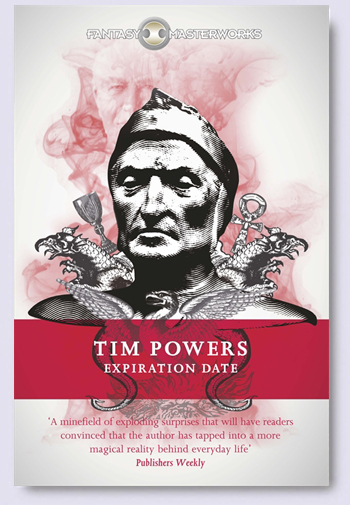 Gollancz also publishes today the latest novel in the Fantasy Masterworks series: Tim Powers's EXPIRATION DATE. The second novel in the author's Fault Lines sequence, here's the synopsis…
Growing up in the L.A. of the 1990s, all young Koot Parganas wants is to be normal, but his weird parents won't allow it. They venerate the spirits of dead Mahatmas. Feeling he has no alternative, Koot disobeys his parents and breaks into a bust of Dante and steals a small glass vial that was concealed inside the bust. The vial contains the preserved ghost of Thomas Edison. Now, aided by allies as strange as his enemies, Koot is pursued through the dark underside of the city.
Tim Powers is the award-winning author of many great fantasy and science fiction novels, including THE ANUBIS GATES, LAST CALL, ON STRANGER TIDES (an inspiration for the fourth Pirates of the Caribbean movie), and most recently HIDE ME AMONG THE GRAVES.
Zeno represents Tim Powers in the UK and Commonwealth, on behalf of Russell Galen at the Scovil Galen Ghosh Literary Agency.