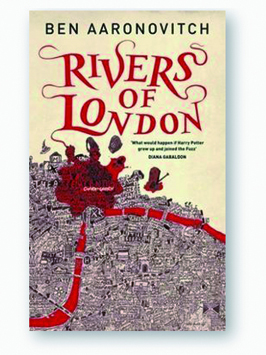 There are all sorts of exciting goings on around here at the moment… We've had the staggeringly wonderful news that Ben Aaronovitch's novel RIVERS OF LONDON (a.k.a. MIDNIGHT RIOT over in the US, where Del Rey have just published)  will appear at number eight in this week's Sunday Times Bestseller list for hardcover fiction – a truly amazing achievement for Ben, who, we're told, is the first début that Gollancz have ever had on this list. Extra big pats for our Ben!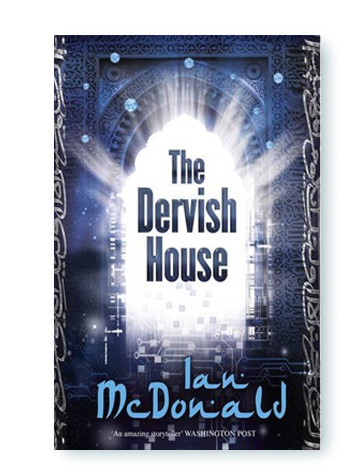 No less vigorous pattage for Mister Ian McDonald, whose novel THE DERVISH HOUSE (also a Gollancz title – and Pyr in the States) has been nominated for the 2010 BSFA award for best novel. The shortlist is impressive, but Ian is widely regarded as a favourite. We'd be very surprised if this was only shortlist this wonderful novel makes this year. Also on the shortlist for the best short fiction is our own Aliette de Bodard, for her story The Shipmaker, which appeared in issue #231 of Interzone – congrats to both authors.
THE DERVISH HOUSE has also made this year's LOCUS Recommended Reading List, which serves as a guide for the very best material our field has to offer. Here are the Zeno authors whose work has been listed…
Novels, Science Ficition – THE DERVISH HOUSE by Ian McDonald
Novels, Fantasy – THE DESERT SPEAR by Peter V Brett
Novels, Fantasy – HESPIRA by Matthew Hughes
First Novels – THE BOOKMAN by Lavie Tidhar
Collections – JOURNEYS by Ian MacLeod
Novellas – CLOUD PERMUTATIONS by Lavie Tidhar
Novellettes –BUTTERFLY AND THE BLIGHT AT THE HEART OF THE WORLD by Lavie Tidhar (Daily Science Fiction 9/3/10)
Short Stories – SECOND JOURNEY OF THE MAGUS by Ian R. MacLeod (Subterranean Winter '10)
Short Stories – TONIGHT WE FLY by Ian McDonald (Masked)
Short Stories – THE NIGHT TRAIN by Lavie Tidhar (Strange Horizons 6/14/10)
Short Stories –THE SPONTANEOUS KNOTTING OF AN AGITATED STRING by Lavie Tidhar (Fantasy 5/17/10)
… a pretty good haul by anyone's standards! More pats to all those who made the list, but particularly to Lavie Tidhar who scored a quite remarkable FIVE mentions!