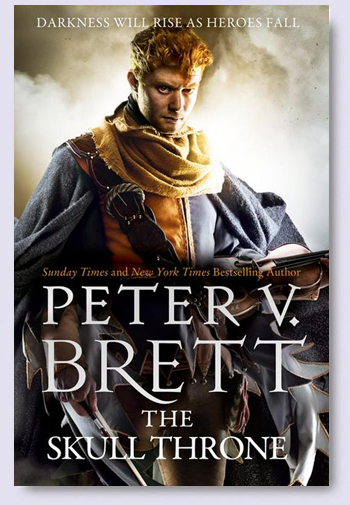 Tomorrow, Peter V. Brett's THE SKULL THRONE is released in paperback in the UK. The fourth novel in Brett's critically-acclaimed and Sunday Times-bestselling Demon Cycle fantasy series, it is published by Voyager. Here's the synopsis…
In the grand tradition of George R.R. Martin and Robert Jordan, Sunday Times bestselling author Peter V. Brett continues his critically acclaimed Demon Cycle with the next dramatic instalment: THE SKULL THRONE.
Built from the skulls of fallen generals and demon princes, the Skull Throne of Krasia is a seat of honour and powerful magic that keeps the demon corelings at bay.
From atop it, Ahmann Jardir was meant to conquer the known world, forging a unified army to end the demon war once and for all.
Arlen Bales, the Painted Man, stood against this course, challenging Jardir to a duel to the death. Rather than risk defeat, Arlen cast Jardir and himself from a precipice, opening a struggle for succession that threatens to tear the Free Cities of Thesa apart.
Renna Bales may know the fate of Arlen and Jadir, but she, too, has disappeared. Now Jardir's sons clash to claim the throne, and risk a civil war among their people. Leesha Paper and Rojer Inn struggle to unite the duchies of Angiers and Miln against the Krasians.
Caught in the crossfire, the rich and unprotected duchy of Lakton sits ripe for conquest. All the while, the corelings have grown stronger — and without Arlen and Jardir, none may be able to stop them.
You can read the start of the novel, here (in case you still need convincing).
Voyager also publishes the other novels in the series, as well as some novellas set in the same world: THE PAINTED MAN, THE DESERT SPEAR and THE DAYLIGHT WAR (novels), and THE GREAT BAZAAR AND BRAYAN'S GOLD and MESSENGER'S LEGACY.
'Brett knows exactly what he's doing…The book is very steadily paced – this a slow burn and much of it focuses on the interpersonal relationships between various characters. There are plenty of action-packed key scenes peppered throughout the book. The demons are mostly added as a spice here; Brett is setting up his world and the characters in order to tell his epic fantasy tale in a way that is both personal and global. It's a page-turner, and quite possibly the best so far.' — Starburst
'Complex and engaging… all I can do is recommend this book to readers. I tore through this volume, and many nights I would stay up late to read just another chapter… or four. I can't wait to see how this diverse cast of characters takes on the demons once and for all.' — Fantasy Faction
'Peter V. Brett expands and deepens his endlessly fascinating and increasingly complex world.' — Buzzfeed (a Best Fantasy of 2015)
Zeno represents Peter V. Brett in the UK and Commonwealth, on behalf of the JABberwocky Literary Agency in New York.