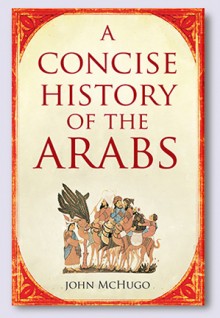 Happy publication day to our client John McHugo, whose insightful and learned volume, A CONCISE HISTORY OF THE ARABS, is published today by Saqi Books.
The book is an accessible and penetrating history of how the Arab World has come to assume its present form and illuminates the choices that lie ahead in the wake of the Arab Spring. A CONCISE HISTORY OF THE ARABS has already received some excellent advance praise…
'Even those familiar with the story of the Arabs will find this new history thrilling and poignant, woven with a layered texture of knowledge and empathy… It is no small feat to compress the fourteen centuries from the dawn of Islam to the new Arab Awakening into such an effortless read.' — David Gardner, author of LAST CHANCE: THE MIDDLE EAST IN THE BALANCE
'Brilliant and erudite… The author has managed to throw fresh light on 1,400 years of Arab history… There are lively and informative insights on almost every page.' — Patrick Seale, author of ASAD: THE STRUGGLE FOR THE MIDDLE EAST
'A lucid and highly readable history of the Arab peoples up to the present day. John McHugo has provided a way of understanding this complex and ongoing story that will enlighten all who read it.' — Charles Tripp, author of THE POWER AND THE PEOPLE: PATHS OF RESISTANCE IN THE MIDDLE EAST
'A well-written, original and stimulating introduction to the Arab world.' — Gilbert Achcar, author of THE ARABS AND THE HOLOCAUST: THE ARAB-ISRAELI WAR OF NARRATIVES
'Vivid and engaging… invaluable for those seeking to understand the depths and complexity of the contemporary issues in the Arab world.' — Joy Gordon, author of INVISIBLE WAR: THE UNITED STATES AND THE IRAQ SANCTIONS
John McHugo is an Arabic linguist and international lawyer with over forty years experience studying, observing and living in the Arab world. After reading Arabic at Oxford and the American University in Cairo (where he was present during the 1973 Arab-Israeli war), he did an MLitt in medieval Sufi thought at Oxford before qualifying as a solicitor. He has worked as a lawyer in Oman and Egypt and spent considerable time in Bahrain and Syria.