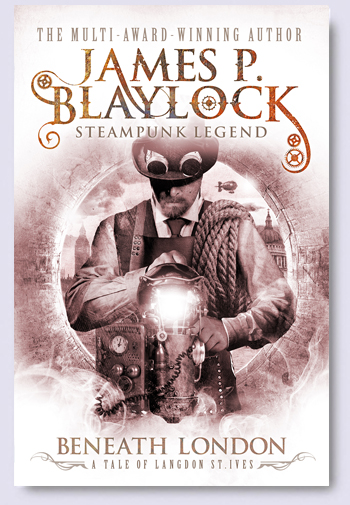 The publication date for the next Langdon St. Ives novel, BENEATH LONDON, is fast approaching. The fourth novel in James P. Blaylock's pioneering steampunk series is due to be published in the UK by Titan Books on June 12th, 2015. To celebrate the upcoming release, the publisher have given Carabas a short excerpt from the novel.
Here's the synopsis…
When the sudden collapse of the Victoria Embankment uncovers a passage to an unknown realm beneath London, Langdon St. Ives sets out explore it, not knowing that a brilliant and wealthy psychopathic murderer is working to keep the underworld's secrets hidden for reasons of his own.
Assumed to be dead and buried deep beneath London, St. Ives lives secretly on the streets of the great city where he, Alice St. Ives, and their stalwart friends investigate a string of ghastly crimes: the gruesome death of a witch in a forest hovel, the kidnapping of a blind, psychic girl who can see into the human soul, and the grim horrors of a secret hospital where experiments in medical electricity and the development of human, vampiric fungi serve the strange, murderous ends of St. Ives's greatest and most dangerous nemesis.
The Langdon St. Ives series also includes: HOMUNCULUS, LORD KELVIN'S MACHINE and THE AYLESFORD SKULL. The whole series is published in the UK by Titan Books.