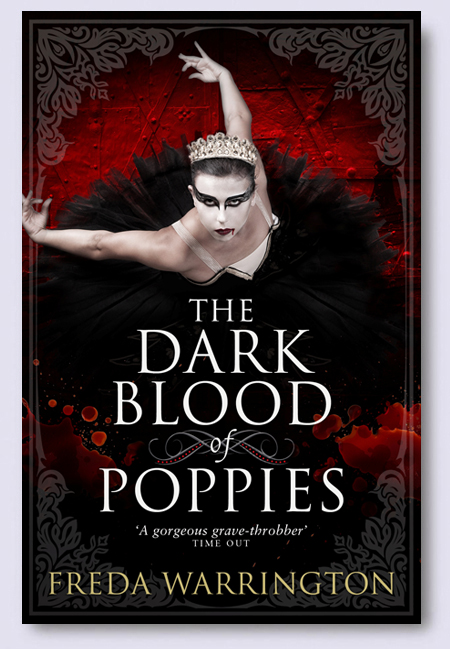 As part of their ongoing re-issue program, Titan Books have just published the third of Freda Warrington's Blood Wine novels, THE DARK BLOOD OF POPPIES. Previously published in 1996, but long out-of-print, we're delighted readers will be able to (re-)discover this series anew!
THE DARK BLOOD OF POPPIES follows A TASTE OF BLOOD WINE and A DANCE IN BLOOD VELVET – the latter of which is released this month in the US, too.
Here's the synopsis…
The ballerina Violette Lenoir has fallen victim to the bite of the vampire Charlotte. Her fire and energy have fuelled a terrifying change and a dreadful realisation; that Violette has become Lilith, the demon mother of all vampires. Haunted by Violette's dark sensuality, Charlotte and her immortal lover Karl are drawn towards the dancer and the terrible destiny that has fallen on her shoulders.
THE DARK BLOOD OF POPPIES will be published in the US in October 2014. Also in October, Titan are due to publish in the UK a new, never-before-published fourth novel in the series: THE DARK ARTS OF BLOOD.
Here's some recent praise for the series…
'… a really, really splendid read… Warrington shows her writer's chops, layering in exquisite period detail. Sometimes the effect is playfully satirical… but more often it's lusciously picturesque… Freda Warrington is like a cross between Anne Rice and Kim Newman – she has the sweep of one, the cleverness of the other… they're not to be missed.'  —  Starburst on A TASTE OF BLOOD WINE
'… a tale of lust and passion that survives beyond the grave… More an erotic Wuthering Heights than Interview with a Vampire… a beautifully written tale… It is very impressive… if you like your romance novels with a bit of bite you will love this book.'  —  Follow the Nerd on A DANCE IN BLOOD VELVET
'A gorgeous grave-throbber.'  —  Time Out on THE DARK BLOOD OF POPPIES
'A great novel, which is entertainingly frightening, splendidly romantic and erotic, and darkly suspenseful. The true Queen of the vampire novel.'  —  Black Tears Magazine on THE DARK BLOOD OF POPPIES
If you'd like to learn more about this third Blood Wine novel, be sure to check out this interview Freda did with Female First.
And, one other piece of Freda-related news: the cover for GRAIL OF THE SUMMER STARS, the third novel in the Aetherial Tales series, has been nominated in the Annual Cover Contest, in the Avant Garde category. The novel is published in the US by Tor Books.