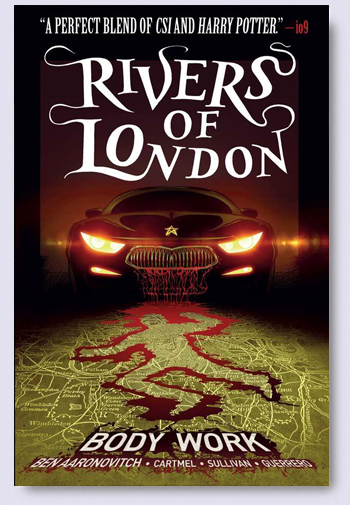 The first collected edition of Ben Aaronovitch and Andrew Cartmel's Rivers of London comic series is available now in the US and digitally in the UK. Published by Titan Comics, it collects the six issues of RIVERS OF LONDON: BODY WORK. Here's the synopsis…
Peter Grant looks look your average London police officer, but he is actually a part-time wizard in a very elite branch of the Metropolitan Police. It's his job to investigate those crimes that regular cops don't like to talk about because they often involve vampires or strange things in Underground tunnels. 
Peter's latest case features a self-driving killer automobile, a Serbian refugee, the Most Haunted Car in England, a handsome drug dealer with a nice paisley scarf and a seemingly harmless wooden bench with a dark past! 
Ben and Andrew's second Rivers of London comic series, NIGHT WITCH, starts later this month (check back soon for more details). Here are the covers for the RIVERS OF LONDON: BODY WORK single issues and variant covers…