James P Blaylock, one of the 'Founding Fathers' of Steampunk, returns to the genre in his first full-length steampunk novel in over two decades… and what can we say except that it is well worth the wait!
THE AYLESFORD SKULL is published today by Titan Books. It features Blaylock's evergreen hero, Langdon St. Ives pitted in a new adventure against his old nemesis the mad scientist, Dr. Ignacio Narbondo.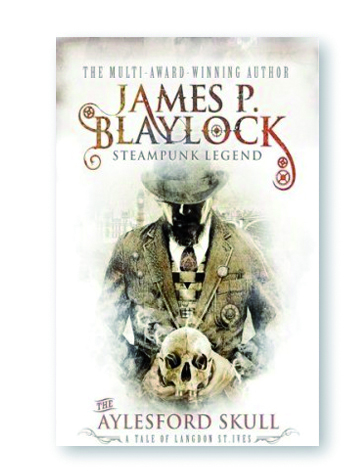 It is the summer of 1883 and Professor Langdon St. Ives brilliant but eccentric scientist and explorer is at home in Aylesford with his family. However a few miles to the north a steam launch has been taken by pirates above Egypt Bay, the crew murdered and pitched overboard. In Aylesford itself a grave is opened and possibly robbed of the skull. The suspected grave robber, the infamous Dr. Ignacio Narbondo, is an old nemesis of Langdon St. Ives. When Dr. Narbondo returns to kidnap his four-year-old son Eddie and then vanishes into the night, St. Ives and his factotum Hasbro race into London in pursuit…
io9 has an exclusive extract from the novel, and The Machine Stops has a fascinating in-depth interview with the author and be sure to check out brillaint Huffington Post article by Blaylock entitled 'On Steampunk' in which he all but admits it's all his fault!