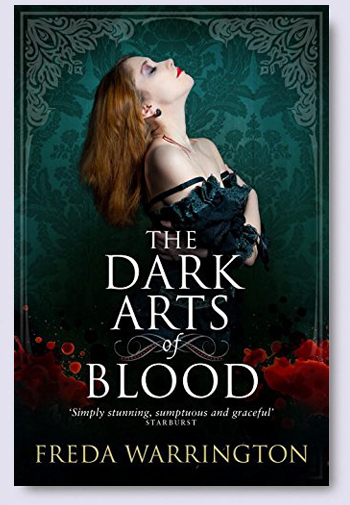 The highly-anticipated fourth novel in Freda Warrington's Blood Wine series, THE DARK ARTS OF BLOOD, is out today in the US! Published by Titan Books in both the US and UK, here's the synopsis…
1927: In the turmoil and glamour of 1920s Europe, vampires Karl, Charlotte and Violette face threats to their very existence. Fiery, handsome dancer Emil achieves his dream to partner the legendary ballerina Violette Lenoir – until his forbidden desire for her becomes an obsession. Rejected, spiralling towards madness, he seeks solace with a mysterious beauty, Leyla. But she too is a vampire, with a hidden agenda…
Is Leyla more dangerous than the sinister activist, Goderich Mann? When Karl and Charlotte undertake an exotic, perilous journey to rescue Emil, they unearth secrets that threaten disaster for vampire-kind.
You can read an excerpt from the novel here; and also an exclusive short story set in the same reality, here.
Here are just a sample of the reviews the long-awaited novel has received…
'Dark and sensual and atmospheric, this stunning book continues the story of Karl, Charlotte and their friends, deftly expanding the mythos of vampires and introducing new characters that are sure to become favourites.' — Aliette de Bodard
'Freda Warrington's vampire novels make for lush, intense dramas involving angst-haunted, fierce undead–lovers, enemies, family members, friends, despots, sometimes religious fanatics or raving lunatics… I remain very impressed by this author and the vampire saga she has crafted.' — Vampires.com
The other three novels in the series are also published on both sides of the Atlantic by Titan Books: A TASTE OF BLOOD WINE, A DANCE IN BLOOD VELVET, THE DARK BLOOD OF POPPIES. The first three novels are also available as audiobooks through Audible.