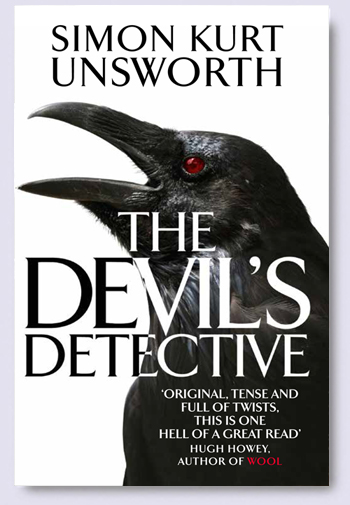 Simon Kurt Unsworth's critically-acclaimed horror novel debut, THE DEVIL'S DETECTIVE, is out today in paperback in the UK! Published by Del Rey, here's the synopsis…
Welcome to Hell
Solving crimes was the purpose of the Information Men, yet they almost never achieved it, and even when they did, the facts they scraped free were lost, buried again in the labyrinthine mess of the Bureaucracy.
When an unidentified, brutalised body is discovered, the case is assigned to Thomas Fool. But how do you investigate a murder where death is commonplace and everyone is guilty of something?
Del Rey will also publish the sequel, THE DEVIL'S EVIDENCE, on October 6th, 2016. Here's the cover…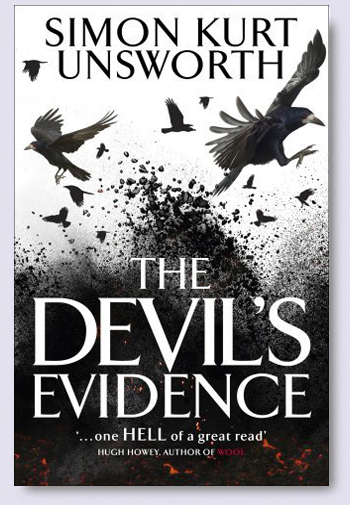 Here's a selection from the great reviews Simon's novel has enjoyed…
'Unsworth's care in constructing an imaginary world enables him to make the most of his debut's challenging concept: a hard-boiled detective novel set in Hell itself… Unsworth offers intriguing variations on traditional themes and some memorably hair-raising prose…' — Publishers Weekly
'With wit, ingenuity and prodigious timing, first-time British novelist Unsworth imagines an unsettling afterlife that at times feels uncomfortably close to some of the more unbearable regions of our waking dreams… A grand, nightmarish page-turner that will have you riveted.' — Kirkus
'The debut novel from prolific short story writer Simon Kurt Unsworth depicts a very modern hell. There's still suffering but it's mostly to be found in the drudgery of the daily grind. Gruesome medieval tortures have given way to endless toil, confounding bureaucracy and arbitrary cruelty. Once you accept the logic of this underworld, what follows is an entertaining Dantean spin on the police procedural… Appropriately awash with gore and bodily fluids, THE DEVIL'S DETECTIVE is damned good.' — Financial Times
'There is much to love with THE DEVIL'S DETECTIVE. The depiction of Hell is original, with it being less of a torture chamber and more of a place for continued hard work for the unworthy, and the world building is great… The novel is dark and full of twists and originality, and it's suitable for anyone wanting to get into fantasy with a supernatural element.' — Starburst
Both THE DEVIL'S DETECTIVE and THE DEVIL'S EVIDENCE are published in the US by Doubleday: the former is out now in paperback, the latter is due to be published in hardcover on July 5th, 2016.