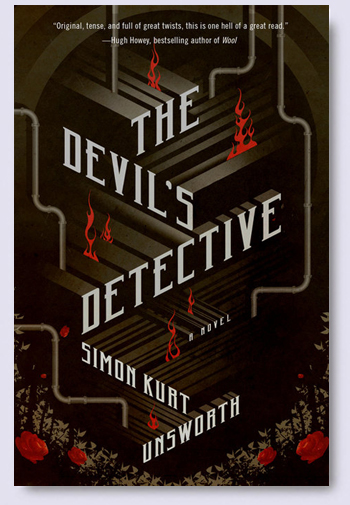 Simon Kurt Unsworth's critically-acclaimed debut novel, THE DEVIL'S DETECTIVE, is out now in paperback in the US! Published by Doubleday, here's the synopsis…
Something is changing in Hell.
A man is found dead, murdered in a horrific manner – even by Hell's standards – and he is merely the first of many. Unfortunately, these deaths coincide with a political visit from a Heavenly delegation, so the pressure is on Thomas Fool, an Information Man, to track down and identify the murderer. It's critical that Fool solves these crimes, but how can he find a killer in a place where murder is common currency?
With no memory of his past but an irresistible drive to discover the truth, Fool will follow the trail of clues straight into the heart of a dark and chaotic conspiracy. A revolution is brewing in Hell… and nothing is what it seems.
Here's just a small sample of the aforementioned critical acclaim…
'Unsworth's care in constructing an imaginary world enables him to make the most of his debut's challenging concept: a hard-boiled detective novel set in Hell itself… Unsworth offers intriguing variations on traditional themes and some memorably hair-raising prose…' — Publishers Weekly
'With wit, ingenuity and prodigious timing, first-time British novelist Unsworth imagines an unsettling afterlife that at times feels uncomfortably close to some of the more unbearable regions of our waking dreams. The whodunit aspects of this novel may, in the end, be less interesting than the phantasmagorical details surrounding it. But that's far less a complaint than a compliment of the author's visionary gifts. A grand, nightmarish page-turner that will have you riveted.' — Kirkus
'There is much to love with THE DEVIL'S DETECTIVE. The depiction of Hell is original, with it being less of a torture chamber and more of a place for continued hard work for the unworthy, and the world building is great… The novel is dark and full of twists and originality, and it's suitable for anyone wanting to get into fantasy with a supernatural element.' — Starburst
'THE DEVIL'S DETECTIVE grips. Unsworth's storytelling is taut and lean, avoiding any lapses into potboiler… When he writes about Hell, he makes it downright hellish… The book eventually spins all this admittedly sumptuous horror into thought-provoking notions about salvation, hope and free will' — NPR
The sequel, THE DEVIL'S EVIDENCE, is also due to be published by Doubleday, on July 5th, 2016. We shared the US cover a little while ago, but here it is again…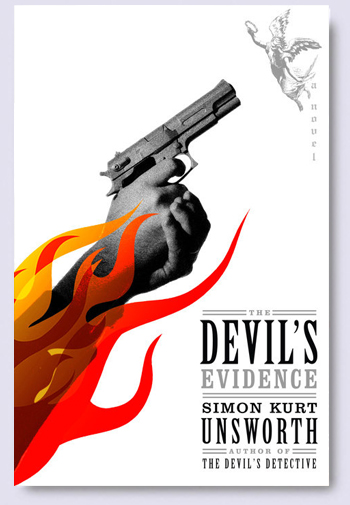 The two novels are published in the UK by Del Rey — the paperback of THE DEVIL'S DETECTIVE is due out 0n February 25th, 2016 (it is still available in hardcover), and THE DEVIL'S EVIDENCE is due out on October 6th, 2016.