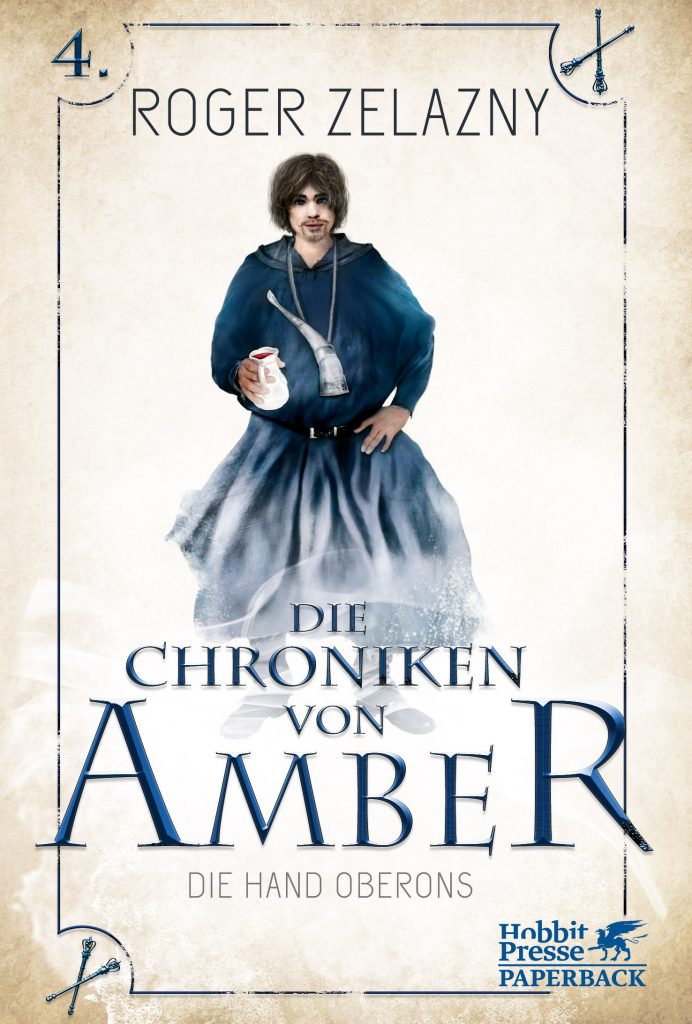 Roger Zelazny's fourth Chronicles of Amber novel, THE HAND OF OBERON, is out tomorrow in Germany! Published by Klett-Cotta as DIE HAND OBERONS, here's the synopsis…
Um Kräfte zu sammeln, zieht es Corwin und seine Geschwister immer wieder in ein »Muster« genanntes Labyrinth, das demjenigen, der es löst, spezielle Fähigkeiten verleiht. Doch das ursprüngliche Muster trägt Schäden davon, als Blut von Corwins Familie auf ihm vergossen wird. Corwins Bruder Brand will das Muster endgültig zerstören.
Prinz Corwin lebte nach einem Gedächtnisverlust auf der Erde, ohne zu wissen, wer er ist. Als eines Tages ein Mitglied seiner Familie versucht, ihn zu töten, beginnt er, nach seiner Vergangenheit zu forschen.
Und so setzt er alles daran, in das Königreich Amber zurückzukehren. Bald schon erfährt er, dass seine Verwandtschaft über einige sehr ungewöhnliche Kräfte verfügt. Alle Nachfahren des Königshauses können zwischen Amber, den Schattenwelten und dem Chaos hin- und herreisen, indem sie die Realität manipulieren. Sie benutzen magische Spielkarten, um zu kommunizieren und sich an andere Orte zu versetzen. Aber vor allem sind sie alle in einen erbarmungslosen Kampf um den Thron verstrickt. Und nicht zuletzt muss das Geheimnis um das Verschwinden ihres königlichen Vaters Oberon aufgedeckt werden.
Klett-Cotta have also published the first three novels in the series, and are due to publish the fifth next month. THE HAND OF OBERON was first published in 1976, and was nominated for the Best Novel Locus Award. Here's the English-language synopsis…
Across the mysterious Black Road, demons swarm into Shadow. The ancient, secret source of the royal family's power is revealed, & an unholy pact between a prince of the realm & the forces of Chaos threaten all the known worlds with absolute obliteration. The hour of battle is at hand. Now Corwin and the remaining princes of Amber must call upon all their superhuman powers to defeat their brother-turned-traitor before he can walk the magical Pattern that created Amber and remake the universe in his own image.
Zeno represents Roger Zelazny in Translation, on behalf of the Zelazny Estate.