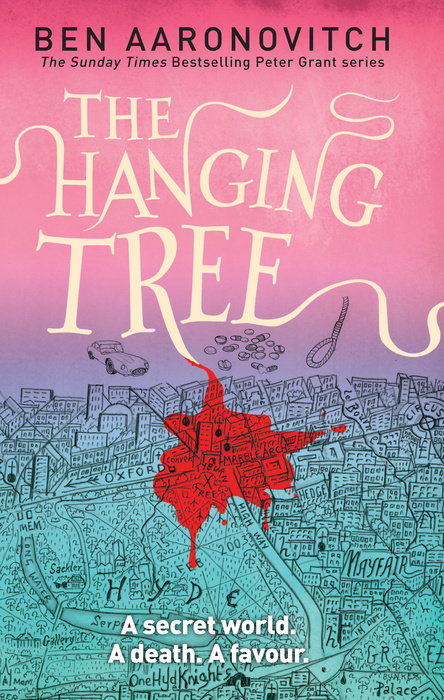 Ben Aaronovitch's highly-anticipated sixth Peter Grant novel is out today in the US! Published by DAW Books, here's the synopsis for THE HANGING TREE…
Suspicious deaths are not usually the concern of Police Constable Peter Grant or the Folly — London's police department for supernatural cases — even when they happen at an exclusive party in one of the flats of the most expensive apartment blocks in London. But the daughter of Lady Ty, influential goddess of the Tyburn river, was there, and Peter owes Lady Ty a favor.
Plunged into the alien world of the super-rich, where the basements are bigger than the houses, where the law is something bought and sold on the open market, a sensible young copper would keep his head down and his nose clean.
But this is Peter Grant we're talking about.
He's been given an unparalleled opportunity to alienate old friends and create new enemies at the point where the world of magic and that of privilege intersect. Assuming he survives the week…
THE HANGING TREE was published in the UK Gollancz, in November 2016. It is due out in Germany in May 2017, published by DTV.
'Fans of Ben Aaronovitch's Peter Grant series will be delighted to discover that this latest instalment is just as good a the previous five… The pace is constant, strong and relentless throughout. Ben Aaronovitch is a master of metropolitan magical mayhem and the action is delightful. This is a tight thriller which is compelling and buckets of fun. If you already know the series, it's high time you got re-acquainted.' — Starburst
'THE HANGING TREE is definitely one of the best in the Grant/Aaronovitch pantheon. There again, so have most of the previous books in the series and the odds are the next one probably will be too.' — The Bookbag
'Aaronovitch deftly balances urban fantasy with the police procedural. As for Grant, he's a wonderful blend of laconic copper and, methodically researching how magic works, full-on nerd.' — Crime Scene