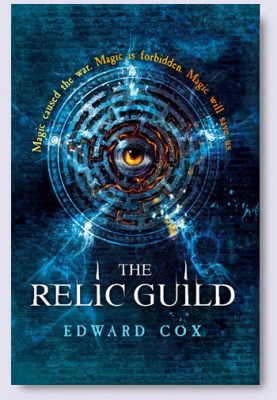 We are delighted to report that Edward Cox's epic debut fantasy, THE RELIC GUILD, is officially published today by Gollancz! The novel is the start of a superb, atmospheric and action-packed new series. Here's the synopsis…
In the sealed Labyrinth, a young woman must find a way to control her magic and escape her prison in this remarkable debut fantasy.
Magic caused the war. Magic is forbidden. Magic will save us.
It was said the Labyrinth had once been the great meeting place, a sprawling city at the heart of an endless maze where a million humans hosted the Houses of the Aelfir. The Aelfir who had brought trade and riches, and a future full of promise. But when the Thaumaturgists, overlords of human and Aelfir alike, went to war, everything was ruined and the Labyrinth became an abandoned forbidden zone, where humans were trapped behind boundary walls 100 feet high.
Now the Aelfir are a distant memory and the Thaumaturgists have faded into myth. Young Clara struggles to survive in a dangerous and dysfunctional city, where eyes are keen, nights are long, and the use of magic is punishable by death. She hides in the shadows, fearful that someone will discover she is touched by magic. She knows her days are numbered. But when a strange man named Fabian Moor returns to the Labyrinth, Clara learns that magic serves a higher purpose and that some myths are much more deadly in the flesh.
The only people Clara can trust are the Relic Guild, a secret band of magickers sworn to protect the Labyrinth. But the Relic Guild are now too few. To truly defeat their old nemesis Moor, mightier help will be required. To save the Labyrinth – and the lives of one million humans – Clara and the Relic Guild must find a way to contact the worlds beyond their walls.
In case that doesn't whet your appetite, here is just a small selection of the advance praise…
'There are many things to love about THE RELIC GUILD… an excellent story… Cox's characters are well-realised individuals, each with a story to tell… a highly successful magic system that doesn't require a lot of explanation and complements the setting beautifully… clever and effective, and [I] appreciated the way Cox keeps his world's history alive and relevant to current events… THE RELIC GUILD is a formidable debut from an author with huge potential, and I will be one of the first clamouring for a copy of the sequel.' – Fantasy Faction
'THE RELIC GUILD was a fast and pleasurable read… [Cox] knows how to craft a tale and to write engaging characters and I've also loved his use of the Labyrinth as a vehicle for setting a fully immersive dystopian (with a dash of noir) atmosphere. It is a magical creation and a true feat of imagination which I'm looking forward to exploring more… A promising debut…' – Upcoming4Me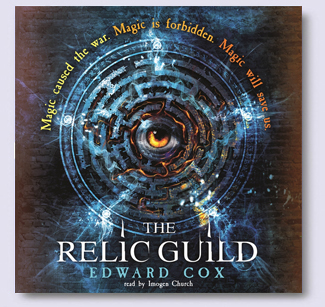 '… a fantasy with plenty of original ideas, where the world is detailed and dark, where the characters intrigue and delight and where the plot draws you in and takes you on a magical journey… Edward Cox's debut novel, THE RELIC GUILD is a real page-turner of a book and I'm already impatient for the next book in the series.' – SF Crowsnest
For those who prefer to listen to your books, THE RELIC GUILD is also out today in unabridged audio, read by Imogen Church and published by Orion Audio.
Ed is currently taking a blog tour in celebration of the release, and you can find him at the following stops:
And, finally, if you're in London this evening, be sure to pop by Goldsboro Books, who are hosting the official launch for the novel (they also have signed, first editions in stock…).