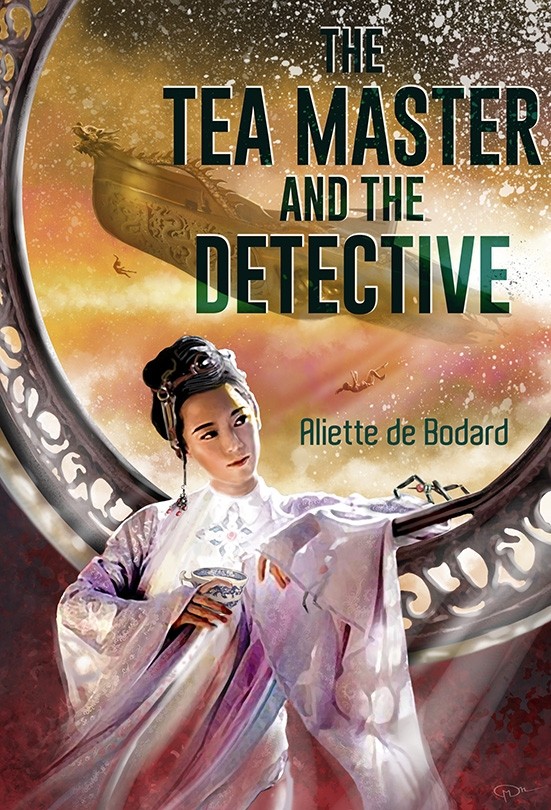 In case you missed the ongoing flurry of interest on social media, Aliette de Bodard has a new Xuya novella on the way! Due to be published in March, THE TEA MASTER AND THE DETECTIVE is due to be published by Subterranean Press. Here's the synopsis…
Welcome to the Scattered Pearls Belt, a collection of ring habitats and orbitals ruled by exiled human scholars and powerful families, and held together by living mindships who carry people and freight between the stars. In this fluid society, human and mindship avatars mingle in corridors and in function rooms, and physical and virtual realities overlap, the appareance of environments easily modified and adapted to interlocutors or current mood.
A transport ship discharged from military service after a traumatic injury, The Shadow's Child now ekes out a precarious living as a brewer of mind-altering drugs for the comfort of space-travellers. Meanwhile, abrasive and eccentric scholar Long Chau wants to find a corpse for a scientific study. When Long Chau walks into her office, The Shadow's Child expects an unpleasant but easy assignment. When the corpse turns out to have been murdered, Long Chau feels compelled to investigate, dragging The  Shadow's Child with her.
As they dig deep into the victim's past, The Shadow's Child realises that the investigation points to Long Chau's own murky past–and, ultimately, to the dark and unbearable void that lies between the stars…
Here are a couple of advance reviews…
'De Bodard constructs a convincingly gritty setting and a pair of unique characters with provocative histories and compelling motivations. The story works as well as both science fiction and murder mystery, exploring a future where pride, guilt, and mercy are not solely the province of humans.' — Publishers Weekly
'THE TEA MASTER… is an astonishing Holmesian mystery, in which Holmes is a woman and Watson is a spaceship. It is everything I wanted it to be. Tea, space, and mysteries within mysteries.' — Mary Robinette Kowal
Aliette is also the Nebula Award-winning author of the Dominion of the Fallen series, which is published by Gollancz in the UK, Roc Books in the US, and is available in various translations.